In some sectors of Wine Country, there is one main road that sort of ties the entire region together.  There's Route 29 in Napa Valley, the D2 in the Médoc or Main Road in Long Island's North Fork.  But if you want to spend time driving around  the Southern Rhône to taste the wines, it's not so easy.  For one thing, the sector is really large, around 140,000 acres in the Côtes-du-Rhône.  For another, many of the villages are very far from even the relatively large routes.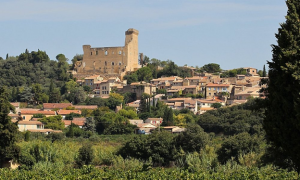 Châteauneuf du Pape.  Photo courtesy of La Mirande.
So if you do plan to drive around the Southern Rhône, here are a few tips to make your travels easier and your tasting more fun.
Choose a few nearby villages for a day's tasting. Châteauneuf du Pape and the area around it is the most famous in the region and it justifies a day (or two, or a lifetime) by itself.  Beaumes de Venise, Gigondas and Vacqeyras are quite close to one another as are Rasteau and Cairannne.  Further north, Vinsobres and Visan are near to one another.  Try to minimize the driving so you can have more time for tasting and visiting the villages.
There are some spots where you don't have to drive very far between wineries. For example, at the intersection of the D69 and the D975 in Rasteau, you can visit Domaine du Trapedis, Domaine la Soumade, the really excellent Cave de Rasteau cooperative, Domaine des Nymphes (for dessert wines) and Domaine Côteaux des Travers all within a few kilometers of one another.  That's really a day's tasting in one small place.
Get a good roadmap. You may have a car equipped with GPS or you may want to use your cell phone.  But we have found that these systems calculate the shortest route, not the fastest or most sensible one.  So you wind up driving through somebody's vineyard with no village in sight for miles.  Michelin sells very good maps and there are others, all available at the local tabac or gas station.  Buy one that's specific to the area you plan to visit.  Maps that cover a broader area may save you a little money but they lack the specificity to keep you from getting lost.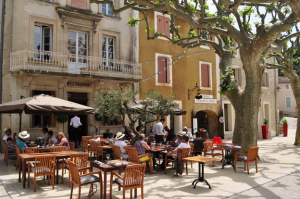 Gigondas. Photo courtesy of Our House in Provence.
Trust the signs. The roads are very well marked.  Since many of the villages aren't on major roads or even large minor ones, your map might not be enough for the last mile.  But if you see a sign indicating that Gigondas is this way, keep going until you see the next sign for the village.  You'll get there (and you'll be glad you did).
Make time for lunch. You may as well, because all the wineries close up from around noon to 2:00.  So aim to be in a village just before lunchtime.  That way you can scout around and find a restaurant or café to your liking.  The better ones fill up, so you might need a reservation.  Even the more casual ones become full with locals, so make sure to get there around noon to make sure to get a table.