You've decided you're going to go wine tasting in Napa Valley.  Maybe you've never been or it's been a while.  We'd like to offer some tips on getting the most out of your vacation by investing some time planning before you go.  Believe us, it will pay dividends.
How much time do you have? It makes a big difference if you're going for just a few days (and if those days are a weekend) or more time, including weekdays.  Don't try to pack in too much in a short time.  For one thing, you're dealing with alcohol, so you'd better know your limits and not even get close to them.
Which part(s) of the valley do you want to visit? There are 17 appellations in Napa Valley, and while a few such as Atlas Peak and Wild Horse Valley don't have wineries to visit, most of the rest have plenty.  There are more than 400 tasting rooms in Napa Valley.  You're not going to get to them all in one vacation, so it makes sense to choose a sector (like Oakville or Calistoga) and focus on just one per day.  You want to avoid driving from one end of the valley to the other, potentially in bumper-to-bumper traffic.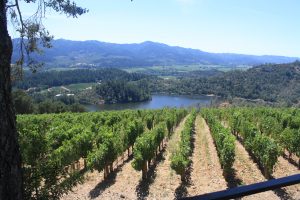 The view from Viader winery on Howell Mountain.
Choose a hotel that's convenient to the places you want to go. The chain hotels are clustered to the south end of the valley, in Napa Town and environs.  Carneros and Yountville have many spas and resorts these days and tend to be pretty pricy.  There are bed and breakfasts scattered everywhere.  In general, the further north you go, the fewer hotels and inns there are to choose among.  Napa Valley is a very popular tourist destination these days, so don't rely on finding a place when you get there.  Reserve in advance.
Plan out your days. When do you usually get out of bed?  It's your vacation, so don't plan on getting up with the roosters unless that's what you usually do.  Eat breakfast!  You're going to be sipping alcohol all day, so have something in your stomach before your first wine tasting stop.  Figure you'll taste at, say, four wineries in a day.  Leave time for a nice lunch; dining in Napa Valley is almost as much a part of your vacation as wine tasting.  Think about what you'll do between the closing of the wineries and dinner.  Your usual vacation plan of a pre-prandial cocktail may not make sense if you've been sipping wine all day and will probably have some more with your evening meal.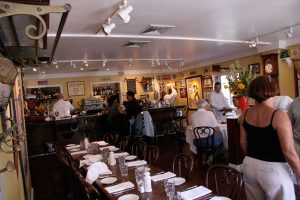 Bistro Jeanty.  Photo courtesy of Sonoma Magazine.
Make dinner reservations. It is hard to get a table at some Napa Valley restaurants.  Some are just impossible (e.g., French Laundry).  Others are very popular and fill up their reservations well in advance (e.g. Bottega).  There are quite a few that are local favorites, like Bouchon, Mustards Grill or Bistro Jeanty where it's difficult to get in on weekends without a reservation.  So it's a good idea to reserve before you travel; you can always cancel if you change yourmind.  And if you don't mind waiting, the Bounty Hunter and Ciccio don't even take reservations.
Have a great vacation and drop us a note while you're there.