This is another in Power Tasting's occasional series on great wine bars of the world.  Previous locations have included the Bounty Hunter in Napa and W.I.N.O. in New Orleans.
Generally, when Power Tasting recommends a wine bar, it is not primarily a restaurant with a bar in the front.  We make an exception for the Antica Bottega del Vino in Verona, Italy for a couple of reasons.  First of all is the name; it means the Old Wine Shop, so you know right from the beginning that wine is king here.  For another, the wine bar draws its own patronage distinct from that of the restaurant.  And finally, because the wine selection is so good.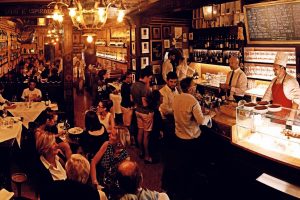 The wine bar at Antica Bottega del Vino.  Photo courtesy of blog.boggi.com.
A few issues ago, we presented our impressions of the town of Verona.  It's a charming little city with roots back to Roman times (and a great, still active arena) and is best known as being the home of Romeo and Juliet.  It's also the jumping-off point for wine tasters visiting Valpolicella.  So you would expect that a Veronese wine bar would feature Amarone and other wines of the region.  And indeed, you can get some good Amarones and Ripassos.  But what makes Antica Bottega del Vino so special is that their list, written on a chalk board over the bar, includes wines from all the great wine making regions of Italy.  You can choose a Barolo, a Brunello, Nero d'Avola, Marche and so on and on and on.
Of course, there are many bars where you can find a long list of fine wines.  But in most cases, wine bars buy recent production and don't have either the facilities or the finances to age their wines.  Antica Bottega del Vino is the grand exception.  Mostly, you'll find wines with ten years or more on them, well-cellared and well-poured.  These folks appreciate wine and their customers have come to appreciate their knowledge and care.
And those customers are a part of the attraction as well.  Get to the bar a little before five, earlier than when most people leave work and before the diners arrive.  If you get there much later, you'll have some difficulty getting a table in the bar, because the place fills up with Veronese, stopping by to sip, to nibble, to chat and be seen doing all the above before going home to spouses and bambini.  Unless you happen to speak Italian, you won't understand the conversation but you'll be wrapped up in an atmosphere that only a bar that first opened in 1890 can give you.  And if someone notices that you're showing real enjoyment of the wines you order, he or she will want to know who you are, where you come from, what you do, why you're in Verona and what you're having for dinner.
We've never dined at Antica Bottega del Vino, but we have noshed.  The bar features many cicchetti (snacks), such as finger sandwiches, a meatball, a piece of cheese.  Just little things to go along with your wine.
And one last thing: it's not very expensive.  For what you'd pay for a glass of plonk in New York, you could have a noble wine aged perfectly.  It's almost enough to make a special trip to Verona.