In the village of Vacqueyras, just beyond the center of town, there is a winery that we have visited several times when we have been in the Southern Rhône.  The first time, it was highly recommended by the hotel where we were staying so we headed there after lunch in the village.  The rest of the story belongs in the Experiences section of Power Tasting as much as in Wineries, but it is also instructive about Clos des Cazaux.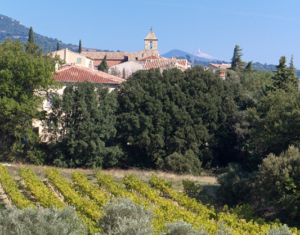 The vines of Clos de Cazaux, just outside the village of Vacqueyras.  Photo courtesy of Kysela Pere et Fils.
Over 20 years ago…as we parked, a petite elderly woman came out to greet us.
Elderly Woman: Bonjour, Monsieur.  Bonjour, Madame.
All the rest of the conversation was also in French, so we'll translate from here on.
EW: A taste of my wines, perhaps?
Power Tasting: Of course, that's why we're here.
EW: Please enter my cave.
The cave was little more than a shed.  Inside was a shelf with four bottles of red wine.  Clos de Cazaux makes more wines than that today.
EW: There are two Vacqueyras and two Gigondas.
This is a relevant point.  Many of the Vacqueyras wineries own parcels of land both in that village and in the neighboring hamlet of Gigondas.  Although they are as close together as uptown and downtown in a city, the elevation and soil conditions in the two are substantially different.
EW: The two Vacqueyras wines and one of the Gigondas are traditional, a blend of Grenache and Syrah.  The other is pure Syrah, pour les anglais (for the English).
PT: (to ourselves) Oh, she means us!
And that says a lot about Clos de Cazaux and the Vacqueyras vignerons in general.  While they can be innovative in their winemaking, the winemakers of Vacqueyras are tightly wedded to tradition.  Still, they try to please, even us anglais.
A Templar, with the Dentelles de Montmirail in the background.  Photo courtesy of the winery.
That wine that was made just for us was and is called the Cuvée des Templiers (or Templars, in English, who were freebooting soldiers who fought for and occupied the Holy Lands during the Crusades.  It is no longer just Syrah, but having tasted it again in ensuing years, it's still our favorite from this winery.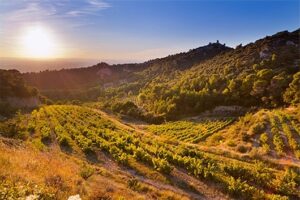 The Clos des Cazaux vineyards. Photo courtesy of the winery.
As then, Clos des Cazaux makes wine from grapes of both Vacqueyras and Gigondas.  There are whites and a few rosés, but most of their wines are reds.  The whites are predominantly Clairette from vines the elderly woman might have planted in her youth.  The reds are mostly Grenache, Syrah and some Mourvèdre.  There are a few interesting exceptions, including a pure Grenache from Gigondas (maybe the anglais have changed their tastes).  There's also a wine they call Grenat Noble, which is a Grenache, with 30% of the grapes having been infected with botrytis, the Noble Rot, that is the base of Sauternes dessert wines.  It's not quite a dessert wine, not quite a table wine.  It's just unique.
We're sure that the elderly woman has long since passed on, but there is an interesting coda to this story.  Years later we were at the tourist information office in Rasteau, village near Vacqueyras, and we related the story above to the young woman who was helping us.  She looked at us, amazed, and said, "That woman is my grandmother!"