We are inveterate wine tasters and have made wine tasting trips many times.  Others we know are mildly interested in wine tasting and have made only one voyage to Wine Country.  Almost all of them remember that experience warmly but not enough so to do it again, or at least not yet.
To be honest, the various trips blend together in our memories.  What made one trip so different that it stands out in our minds?  Not much, actually.  But there are certain mental pictures that do regularly pop up.  They're snapshots, really, not enough for a whole article but we'd like to share anyway.
There was the first trip wine tasting we took together to Napa Valley and Sonoma County.  We were young(er), very much in love and a mellow early summer sun was shining down on us as we drove our rented convertible down Dry Creek Road.  If there were a label on this picture, it would say, "Happiness".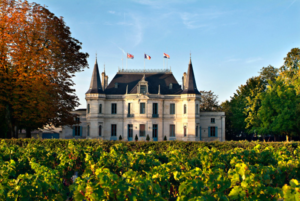 Chateau Palmer.  Photo courtesy of Decanter China.
One time we showed up at a top Bordeaux vineyard, Château Palmer, without a necessary appointment.  Worse yet, it was during the lunchtime break and the winery wasn't even open.  However, just as we were leaving, a group of French and American restauranteurs showed up for a private tour with the wine maker.  We just tagged along and finally arrived in the salon, where Monsieur announced, "C'est teatime" meaning he was opening bottles, which we got to share.
On another Bordeaux trip, we were there for the vendange, the harvest.  We were at Cheval Blanc, one of St. Emilion's finest, where we saw the pickers hard at work in the vineyard and went to take a photo or two.  The workers stopped picking, looked at us with some evident hostility, and started hissing among themselves in a language we didn't understand, maybe Arabic, maybe Roma.  That was a photograph never taken.
We were in Paso Robles for a few days where we knew few of the wineries, so almost every place we went was a discovery.  On our last afternoon there, we visited one winery after the other whose products we just didn't care for.  After the last, we thought sadly that we had overtaxed our taste buds and just weren't able to tell good from bad anymore.  But we hadn't been to one of our favorites yet and decided that Turley would be our final stop for the day.  Let us simply say there was nothing wrong with our tongues.
We had just arrived in Sonoma Valley and had visited our first tasting room.  We were on our way to Arrowood, but overshot the entrance to the winery, and so had to turn around on a rather narrow stretch of the Sonoma Highway.  This required a few back-and-forths to accomplish and unfortunately, we blocked the progress of a police car.  The cop was unnecessarily peeved and pulled us over for a sobriety test.  Of course, passing was not a problem.  The officer was mightily annoyed that he couldn't drag us in for DWI.  But it was a good lesson to be aware of alcohol, driving and the police when wine tasting.
There was that time we were in the Rhône Valley in Provence and drove to Châteauneuf-du-Pape.  We went to Domaine Beaurenard. We had been there years ago and had a private tour with the owner, who happened to be there at the time of our visit.  We had the great pleasure to have a tasting with Monsieur Paul Coulon, the owner of Château Beaurenard.  Since then, each time we open a bottle of his wine, we call it *the wine of Monsieur Coulon*.
Each of these snapshots brings a smile to think about them.  There are surely many more to be remembered that we might share with our readers later.