A visit to a tasting room may be the only way to learn about unfamiliar wines. In some cases, there may be a winery or wines that you have always liked in the past that you think have taken a turn for the worse. There might be a new owner or a new winemaker, a change in philosophy, renovations in the tasting room or maybe just a bad year. We recommend that you give them another try a few years later. Maybe they are simply not as good as you'd like to remember…but maybe they have returned to form.
Let us tell you about two experiences we had recently that underscore this advice.
Limerick Lane (www.limericklanewines.com) has the distinction of being the first winery we visited together year ago. It became our favorite source of Zinfandels and later one of our favorites for Pinot Noir. We even joined their wine club to receive shipments of wine throughout the year. At the time, Limerick Lane was owned by Michael Collins, who sold it to Jake and Scot Bilbro in 2011. We didn't care for the first wines we tasted from the new proprietors and dropped out of the club. (In a recent article in Wine Spectator, the Bilbro's indicated that they weren't as pleased as they could have been with their first wines, either.)
That's about the wine, but what about the experience of wine tasting there? The winery is approached along a long road – Limerick Lane, of course – in the furthest northeast section of the Russian River region. It's a bucolic area and there are none of the grand buildings that house wineries elsewhere; this tasting room is just an addition to the side of the industrial building where the wine is made, facing some of their vineyards. The primary attraction, other than the wine itself, is the fellow who will pour it for you, Peter Leary. He has been at Limerick Lane for over a decade. Peter always has a story to tell, a little something to enliven your tasting and really knows and explains what he is serving. Let's also add that he has a very good memory; even after four years of not seeing us, he remembered us as soon as we walked in the tasting room.
We were delighted to find that the Zins had returned to our taste and a bit saddened that Pinot Noir had been de-emphasized. We were also quite pleasantly surprised to learn that Limerick Lane was now quite sought after. The wine club was no more and several of their offerings were allocated (meaning that you have to be on the list to have the opportunity to buy just a few bottles.) We immediately returned to the mailing list, happy that the Zinfandel we had always liked the best remained available without allocation. Only when we returned home did we learn that Wine Spectator had listed four Limerick Lane bottlings among the top-scoring Zinfandels of the 2012 vintage…including our favorite!
*   *   *   *   *
Dry Creek Vineyard (www.drycreekvineyard.com) had long been one of our favorite wineries to visit. The building itself is a gorgeous Wine Country style building, covered with vines, set in a broad lawn with many shady trees. There's even a little trail for visitors to walk through the vineyard. Picnickers are welcome and the winery is literally in walking distance of the Dry Creek General Store. They also sell some fancy pork rillettes, salamis and cheeses in the tasting room. It's only fair that you cannot bring any other alcohol with you (it's also a state law) but the tasting room will gladly sell you a bottle or even wines by the glass. It is an utterly charming location for a lunch or a lazy afternoon.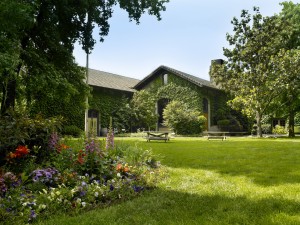 Photo courtesy of Dry Creek Vineyard
Inside, the whole theme of the tasting room, and of the labels as well, is sailing. There's a big painting of  a sailboat behind the bar and the room is decorated with nautical gear, all very welcoming.
Back in the early days of our wine tasting careers, we picked up some very nice but rather small (and free!) glasses with our visit. Back then, the focus of our attention was their premium Merlot. Alas, on one occasion we arrived there to find that they had de-emphasized the Merlot in favor of single vineyard Zinfandels, which at the time were not to our tastes…and they weren't giving any glasses anymore. Disappointed that we could not get our Merlot, it took us several years to return to this winery.
On our recent visit, we were delighted to find that the Zinfandels and other red wines were very much to our tastes, indeed. The fellow who served us, Bill Langley, very patiently listened to us, opened one bottle after the other and gave us a thorough grounding in Dry Creek's production. We bought a bottle that day, had it for dinner that night, came back the day after and bought a few more. As soon as we came back home, we joined their wine club and we are very excited about it.
Both stories give a lesson. If you once enjoyed a wine tasting and then had reason to change your mind, go back another time and try it again. You might fall in love all over again with the wines. Maybe it wasn't the wine that changed, maybe it was you. Or maybe they just caught up with your tastes.
Both stories also have a lot to do with our wine tasting experience at either winery. Not only the wines but Peter and Bill made the difference in our experience at both wineries. They're friendly guys, interesting to listen to and also interested to listen to us and our past tasting experience at their respective wineries. On top of everything, they made the difference in our tasting experience and explained us why their wines are what they are now. That was enough for us to buy their wines and sign up with their clubs.
Thanks guys. We're back.