Maybe you think that all Italian wines come from Tuscany and the Piedmont.  You can find wine being made almost everywhere in Italy and the biggest wine producer is Sicily. If you decide to visit that island for wine tasting, make sure you also include history, art and food on your itinerary.  You might arrive on a cruise ship or on a ferry, but most likely you'll fly in.  And in that case you'll come into Palermo.  Before you head out to the vineyards, you ought to see what this city has to offer.
Now, Sicily generally and Palermo in particular have an image problem – the Mafia.  Yes, there were and still are gangsters in Palermo just like we have them in US cities.  In our travels, we never felt the heavy hand of the Mob.  People did tell us that most of that had been cleaned up.  It's mostly the tourists who want to see the places they know from the Godfather or take a trip to the nearby town of Corleone.  If you're a tourist and want to see those things, go right ahead.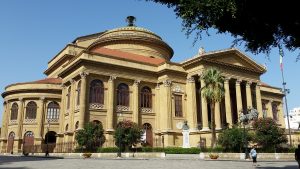 The Teatro Massimo
But instead of remembering the fatal scene at the opera house, feast your eyes on the Teatro Massimo, the largest in all of Italy.  It's a masterpiece of 19th century architecture inside and out.  Even if you don't feel like taking in an opera, it's the grandest hanging out and meeting place in Palermo.  So sit in one of the caffés around the perimeter of the piazza in front of the theatre, or loll on the steps with the younger Palermians or watch a political protest arrive.  You'll feel very much a part of the scene.
Of course, you could go and see a grand performance.  A word of warning: Climate change being what it is, it stays hot in Sicily later in the year than in the past.  They didn't install air conditioning in the Teatro Massimo, so be prepared to perspire more than a bit.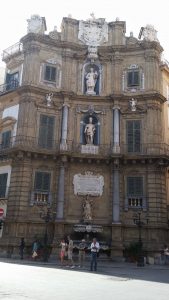 Just one of the Four Corners
Another sight not to miss in Palermo is the Four Quarters (or I Quattro Canti in Italian).  It's a crossroads with massive sculptures and fountains on each corner.  They represent the kings who once reigned in Palermo and the city's four patron saints.  Don't stand in the middle to see them all; these are heavily trafficked streets.  But do wander about and take in each one in turn.
Palermo may be the street food capital of the world.  Wander through the back streets and markets and try a little of this or that.  Maybe it's a good idea to ask what you're about to eat before biting.  They make the most of every animal in Sicily.  We're generally not big fans of tours, but you can find some street food tours that will take you everywhere and let you try everything (or at least everything you'd like to try).  But, oh, Sicilian pizza! And, ah, Sicilian gelati!  And especially, oh my, Sicilian rice balls (or arancini)!  Here they may be stuffed with meat and peas, or cheese, or tomatoes.  They're coated with breadcrumbs and deep fried.  Have some – you're too thin anyway!
Then head around the island and try the wine.