Wine tasting in Napa Valley has become quite expensive.  As reported elsewhere in this issue, it is common to spend $45 or more for tastings of the better wines in the better wineries.  For some people, this isn't an issue, but there are many others who might be dissuaded from visiting America's premier winemaking area because of the cost.  Here are some ideas for making a Napa Valley visit more affordable (although not cheap).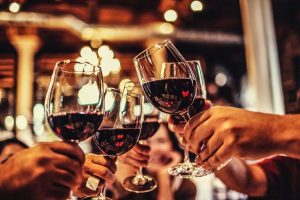 Photo courtesy of Vox.
There are still some top wineries that don't charge an arm and a leg and there are still a few that are free (although who knows how much longer that will last). Foremost among these is Heitz Wine Cellars, a Napa Valley pioneer that has never charged for wine tasting.  Do a little homework before you go to find wineries within your budget.
Share a tasting. This is good advice on its own merits, since you can taste more wines without consuming more alcohol.  Of course, you need to travel with a fellow taster – your Significant Other is the best idea – and you may have to forego gulps in favor of sips.  But that's what wine tasting is all about, anyway.
Join a wine club. All the wineries have clubs, which are a way for them to lock in customers.  In almost every instance, membership enables free wine tasting, often for a group, not just an individual.  Of course by being a club member you commit yourself to buying 2, 4 or 6 shipments of their wines per year and that can become costly.  Recently we have learned that some wineries allow you to communicate requests to welcome your friends as if they were members as well.  So if you have friends who are members of some clubs, ask them to call on your behalf.  If you are a member of some other wineries, you can make such requests reciprocal.
Buy a bottle. In many cases, wineries will waive tasting fees if you make a purchase.  This is a triple deal.  You get to taste for free, determine your favorite and take a bottle of that one home.
Taste wines on the less expensive menus. We do recommend tasting the reserve lists, but on occasion there are very nice wines to taste among the recent releases.  If you want to enjoy a particular winery for its architectural beauty or its views, it might be just fine to taste the regular wines and enjoy the winery.
B.Y.O.B. to a restaurant. There are many restaurants that will charge a corkage fee if you bring your wine.  And some don't charge at all.  Even with the corkage fee, it is often cheaper to bring your own bottle than buy it at the restaurant.   Also, you'll have a taste for the bottle you'll buy for tonight's dinner.
Splurge on just one special winery. There may be a Napa Valley wine that you particularly like.  Or one that is very famous and that you always wanted to try.  Yes, you'll pay a lot to taste these wines but if you limit the number of such wineries, it will lower the economic pain.
Go wine tasting somewhere else. There are great wines in Sonoma County, Santa Barbara and the Central Coast.  You don't have to be in St. Helena or Rutherford to have a very pleasant tasting experience.  As for us, we'll be back to Napa Valley for sure, just not as often.