We were vacationing in Tuscany and of course we were taking in the cathedrals, the art, the piazzas.  And we engaged in a lot of wine tasting.  There are three wines that for which Tuscany is famous: Brunello from the area around Montalcino, Vino Nobile from the vineyards bordering Montepulciano, and Chianti.  The first two are near one another, southeast of Siena.  The best Chianti comes from the hills between Florence and Siena, the famous Chianti Classico.  The wine is comprised of 80% Sangiovese and some other grapes and is made throughout Tuscany.  Only the wines from the central region are Classico and bear the black cock identifier and a DOCG designation.
Now to be honest, Steve had always thought of Chianti in terms of straw-covered bottles, melting candles and thin, highly acidic beverages in the glass.  Travelling broadens your horizons…and tastes.  That is the greatest joy of visiting wine-growing regions: discovering a whole new world of enjoyment that you never before realized was there.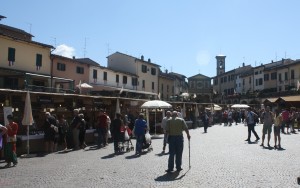 Piazza Matteotti during the Wine Expo in Greve in Chianti
There are three principal villages associated with Chianti Classico: Gaiole, Castellina and Greve.  They form a triangle in the center of the region and all the other villages associated with winemaking (like Panzano or Volpaia) are near one of the three.  The views are magnificent, the food appealing and the roads, well, are a bit of a challenge.  But even if you get a little lost, there will usually be a sign a few kilometers away that will put you back on track.
On just such a roundabout journey, we pulled into Greve on the main road and as we were looking for parking, caught a glimpse of a piazza with a lot of umbrellas off to our left.  Once parked, we wandered towards the umbrellas and, lo and behold, we had stumbled upon the annual Wine Expo!  The Piazza Matteotti had dozens of booths, one large kiosk and numerous caffès around the exterior.  The caffès are there all year but the rest only spring up one long weekend in September, after the harvest, and we were lucky enough to have caught just the right day.
You go to the ticket counter (biglietteria) and ten euros buys you a wine glass, a little pouch you can wear around your neck to hold the glass and a ticket that entitles you to taste seven tastes.  In this case, a "taste" means trying the wines of seven producers.  Each one with a booth on the square has at least one Chianto Classico, a Chianti Classico Riserva, a Super Tuscan and many have olive oils to try as well.  That's a lot of tasting!  We learned that in general, Lucie prefers the youth and freshness of a Classico and Steve goes for the depth of a Riserva.
In the big kiosk, producers who don't feel like staffing a booth have some of their best wines available, including some Vin Santo, the dessert wines of Tuscany.  Many in the kiosks are the better known wineries of Chianti, like Felsina and Fondoti.
In the individual booths, no one seems to intent on stamping your ticket but in the kiosk they're more rigorous about it.  Not to worry, another ten euros will buy you another ticket.  But all those sips in a concentrated period of time can add up.  It's a better idea to be content with seven.  In fact, Lucie was driving that day and gave her last two ticket stamps to Steve, just to be on the safe side.
The day was quite a learning experience.  For one thing, we now know that there's a whole lot of fine wine in Chianti.  We didn't see even one straw-covered bottle.  Having the opportunity to taste many different vineyards' wines side by side, we definitely came away with some favorites.  And rubbing shoulders with the Italians while we tasted certainly added to the pleasure.
The Wine Expo is held every year in September.  You can learn more at http://www.greve-in-chianti.com/en/2010_wine_festival.htm#.VcuuTsuFPDc