Driving along Route 25 on Long Island's North Fork isn't much like motoring up Napa Valley's Route 29.  Yes, there are wineries on both sides, but the California version is much grander.  There are a few wineries in Long Island with architecture that's impressive, such as Raphael and Pellegrini, but most are understated.  Architecturally speaking, McCall is understated to the point of a whisper.  As you drive up to the winery, it seems like it could be farmhouse or a stable.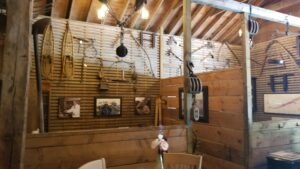 The tasting room at McCall Wines.
Well, it was a stable.  The owner, Russell McCall, is a horseman.  The tasting room has retained its equine charm, with a décor of saddles, farm implements  pictures of Mr. McCall playing polo.  Two of the stalls have been retained and you can taste your wine in them, if that's your wish.   There is a small bar but tasting is done as table service, outside in the summer.
The site has historic interest.  It was once a meeting place of local Native Americans, known hundreds of years ago as Fort Corchaug.  The vineyard at the winery (they have another nearby) is still known as the Corchaug.  In good weather, we prefer to leave the stable behind us and sit at a picnic table on an expansive lawn overlooking that vineyard.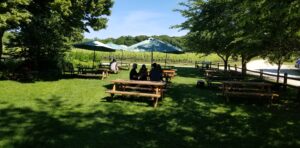 Tasting by the vines.
McCall also raises cattle on the property.  One of the popular attractions at the winery is Burger nights on seasonable Thursdays and Fridays, with the main attraction made from their own Charolais beef.  It may be a little unsettling to know that what you're eating once lived just over there, but we recommend you wash down your concern with some wine.
We were first attracted to McCall by their Pinot Noirs, of which there are four.  It's not a grape that is generally found on the North Fork, where Bordeaux grapes are more commonly grown.  These wines are not Burgundies, nor are they much like Pinot Noirs from Russian River.  They have their own local character.  You'll have to judge for yourself how Long Island terroir plus maritime breezes work for these wines.
There are also Chardonnays and Rosés to sample.  But the star of the show, to our tastes, is a Bordeaux Blend they call Ben's Blend, named for their founding winemaker.  McCall ages these wines – the youngest available for sale in 2022 is the 2014 vintage – and we find it more Californian in character and quality than any other red wine we have tasted from a Long Island winery.
One thing we appreciated when we last visited was that the winemaker, Miguel Martin, walked around to each table and had a few words with the patrons.  Mr. Martin is a Napa Valley veteran, transplanted to the East Coast.  We were quite impressed with the experience of wine tasting at McCall and urge visitors to the North Fork to include it on their itineraries.