If you are a true wine lover, then at some point in your life you have to go wine tasting in Burgundy.  Now, Burgundy is a big place and it includes winemaking areas such as Chablis, Beaujolais and Mercurey, all sources for very fine wine.  But when people think of Burgundy what they really have in mind is the fabled Côte d'Or, French for the Gold Coast.  That's where the Grand Cru Chardonnays and Pinot Noirs come from.  It runs from Dijon (of mustard fame) in the north to a cluster of villages on the road to Chalons to the south.
And smack in the middle is the town of Beaune.
Anyone who goes wine tasting in the Côte d'Or will pass through or around Beaune.  For many visitors, Beaune is simply a starting point for going somewhere else.  Mostly they're going to villages that equate to wines, like Nuit St. Georges, Gevrey-Chambertin, Volnay, Pommard or Montrachet.  We would like to recommend that you stop a while in Beaune itself.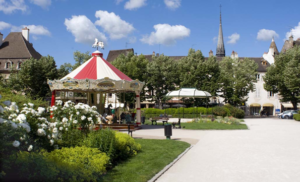 The Place Carnot in Beaune.  Photo courtesy of Beaune Tourism.
The center of town is the Place Carnot, named after 19th century President of France who had the ill luck to be assassinated.  There is a small carousel in the middle of that, that in its way says this is pleasant square is in a pleasant town where visitors are always welcome.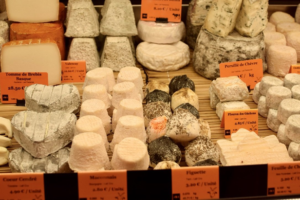 Cheeses at the shop of Alain Hess.  Photo courtesy of Wine Keller.
The square is ringed by shops and cafes.  One shop kept bringing us back time after time: Alain Hess, Maitre Fromager (Master Cheesemonger).  Charles DeGaulle once questioned how anyone could manage a country with 500 types of cheese.  We never counted, but we think you can find all 500 of them at M. Hess' shop.  And of course he can sell you the wine and some charcuterie to go with the pique-nique you'll have next to a vineyard.
There are lots of interesting things to do while you're in Beaune.  In a previous edition, we've described the Hospices de Beaune, which is a treasure not to be missed whatever else you do in the region.  You can do some in-town tasting at Louis Jadot or at numerous oenothèques.  There's the Musée de Vin, which is installed at the former palace of the Dukes of Burgundy.  And here's a special tip: We're not sure it still exists, but if you walk down the Rue du Faubourg Madeleine, away from the Place Carnot, on your right there's a nondescript tabac with the best chocolate ice cream we've ever eaten.
There are many restaurants in the Côte d'Or where you can dine on French haute cuisine, and a few of them are in Beaune itself.  But if you want to feel French while you dine, go to a little café in Beaune where you can order a meal made from the fine Burgundian farms.  Start with escargot, drowning in garlic butter.  Then it's either a boeuf bourguignon made from local Charolais beef or a roast poulet de Bresse, considered the finest chicken in France.  There will be local cheese before dessert, such as the bleu from the aforementioned Bresse.    You will soon realize that you've spent an afternoon indulging yourself, all the while pretending that you're a local.