There are some wineries in Napa Valley that are intended to awe their visitors.  They may have long histories, or architecture designed to replicate castles and temples, or they're highly modern glass palaces.  Frog's Leap Winery (https://www.frogsleap.com/) has the history, having been established in 1980.  It has the grapes, much of which they sell to other winemakers.  What it lacks is awesomeness.  It was designed and built to make visitors feel like they're going to visit their country grandma, albeit a grandma with money and good taste.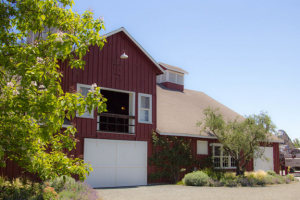 Photo courtesy of Wine Travel Eats.
The winery building itself still looks like a barn, a very big one.  It's painted the shade of red that seems to be reserved for barns.  You can take a tour and still see all the equipment and the barrels, but we think you'll be drawn back to the visiting area.  Of course, that's where they serve the wine.
While Frog's Leap makes a broad selection of red wines, it seems to us that they're best known for their white wines. Maybe that's because their Chardonnay is so widely available in wine shops around the country.  Taking nothing away from the Chard, we're impressed that they still make a Chenin Blanc, which used to be much more prominent in Napa Valley.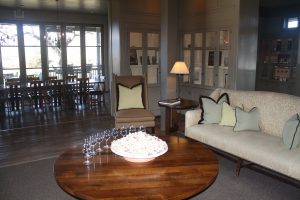 These days of pandemic-induced changes, all of Frog Leap's tastings are seated affairs, by appointment only, out on the lawn.  In better times, both in the past and just ahead, tastings are also seated, in a parlor where you perch yourself on a settee.  Now, settee is a word your grandma may have used and it's that sense of old-style hominess that is for us the premier attraction of this winery.  You feel like much more than a customer; you're a guest.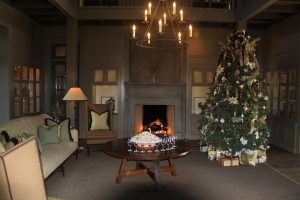 This feeling is reinforced at Christmas-time.  There's always a beautifully decorated tree erected in the parlor.  It puts you in a holiday mood as soon as you walk in the door.  They're not going to offer you egg nog; you're limited to wine.  But there is a sense that you ought to leave some milk and cookies behind when you leave.
Now don't get us wrong.  The wines are modern: crisp whites and robust reds.  Unlike many Napa Valley wineries, including many that are quite nearby, Frog's Leap still making wines at a price point that the average person can afford on a regular basis.  Nothing among their recent releases costs an amount that requires three digits and that's quite okay with us.
Oh, and about the name.  We always thought it was a play on Stag's Leap and that may indeed be the case.  But according to the people at the winery, back in the '70s, the location was a frog farm.  A frog farm?  Now, John Williams, founder of the winery, was working at Stag's Leap when he bought the property.  So believe whichever story you prefer.