Maybe you've heard this question from some friends: "I've got a business meeting in San Francisco and my Significant Other is coming with me.  We'd like to spend some time going wine tasting.  You've been there a lot, so what would you suggest?"  We've gotten that a lot.  In fact, the reason we started Power Tasting, in part, was to answer questions like that.
There are a lot of questions to ask your friend first, among which are
Are you driving or will someone else drive for  you?
Are you going just for the day or are you staying over?
Are there particular wines you especially like or dislike?
So let's assume that these hypothetical friends are going to drive up for the day and are pretty open about what they will taste.   Moreover, they're not going to be constrained about paying for top-quality tasting.  We would recommend a day-trip to Napa Valley.  Why Napa?  Because that's where American wine as we know it today got started.  We love Sonoma County and some parts of Santa Clara County – also short distances from San Francisco – but if your friends have never been wine tasting in California, they really ought to start with the most famous American wine locale of them all.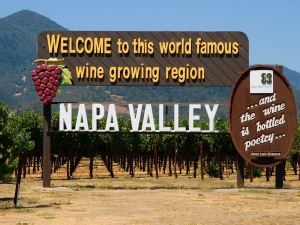 Photo courtesy of Eater San Francisco.
Here's how we would respond:
Take it easy.  If you're not used to sipping wine all day, you need to respect your limits –  don't wait until you've reached them.  This is especially true because you're going to be behind the wheel.
Restrict yourself to the southern end of the Napa Valley.  There are a lot of great wineries on the southern (i.e. Carneros and Napa appellations) end so you can minimize your driving time.  That's doubly important, since you'd like to avoid the traffic and not spend too much time driving with alcohol in your bloodstream.
Try to taste a wide selection of wines.  You could do all Cabernet Sauvignon or Chardonnay, but what's the point?  So, for example, Etude winery is one of the closest to San Francisco and you can taste top-end Chardonnay, Pinot Noir and Cabernet Sauvignon there.  Not far away is Domaine Carneros, for more Pinot Noir and especially for sparking wines.  We'd also recommend getting into the main valley; Trefethen is close by and has a lot of top-end wines to offer.
Stop for lunch.  For one thing, if you're tasting wine, you ought to have some food. For another, Napa Valley is almost as famous for its restaurants as it is for its wines.  Mustards on Route 29 has been a destination restaurant for decades.  Or you could drive into Napa town, where there are many places to eat.  There's also the Boonfly Café on Route 121, near Domaine Carneros.
Enjoy the views.  There's more to Wine Country than wine.  Everywhere you go, it's beautiful.  If you'll excuse a bit of American pride, Napa Valley is among the most beautiful.  If you do go to Domaine Carneros, you'll have one of the loveliest vistas while sipping Champagne…(oops, California sparkling) on the terrace.  Maybe give yourself a little time to drive around on some of the little side roads.  Route 29 is too full of traffic to be taking in the views.
And above all else, have fun.  Don't be over-awed or try to do everything in a day.  You can always come back.