If you plan to visit Far Niente (https://farniente.com) for a tasting – and it is a very pleasant visit – there are a few things you should know.  For one, you really do need an appointment.  Tastings are restricted to no more than eight people at a time, which enhances the experience for those who do make reservations.  The second is to consult a map.  Maybe Google has improved its map service recently, but our experience is that following the GPS on your phone gets you way, way lost.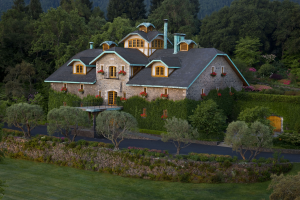 The Far Niente winery.  Photo courtesy of Far Niente.
Once you have found your way there, you'll encounter a beautiful stone manor.  It is palatial, but it's not a Napa Palace.  It's a home that was built in 1885 and restored in the late 1970's by Gil Nickel, the ancestor of some of the current owners.  It is surrounded by acres of gardens and the estate is listed in the National Register of Historic Places.
On arrival, you are given the sense that you are guests in a gracious home.  There is no bar to belly up to; rather you are in a salon with a large table at one end set not for dinner but for a few glasses of wine.  Once all the visitors are assembled, you are given an introductory lecture on the history of the estate, the winery and Far Niente's approach to sustainable agriculture.  You are then led on a winery tour.  It's a fine enough tour, but with regard to winemaking it is generally similar to those given at other top-end wineries.  There is only so much variation on the theme of growing grapes and transforming them into wine.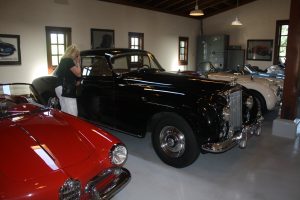 A corner of Far Niente's antique car collection.
But a tour at Far Niente has a unique attraction.  At a certain point in your tour you are ushered into a large garage – really more of an indoor parking lot – full of Gil Nickel's collection of antique cars.  There are race cars, delivery trucks, touring cars and a few motorcycles and a Rolls Royce.  You are invited to ogle these perfectly maintained specimens, on the basis of "look but don't touch".  Rarely would we complain about moving on to a tasting, but you don't get to see cars like these every day!
The tasting itself is a seated affair at the aforementioned table in the salon.  There will be a recent vintage Chardonnay, often a Pinot Noir and always one or more of Far Niente's justly famous Cabernet Sauvignons.  Each wine is carefully explained by your host/guide/server.  Little extras, like a dessert wine from their sister vineyard, usually appear.
If there is any negative to your visit, it's the somewhat heavy sales pitch of Far Niente's wine club.  Joining is, of course optional, but just a brief mention might suffice.
This winery, nestled in the foothills of the Mayacamas, is a destination for those who enjoy the total winery experience, with fine wines as the main draw.  From cars to Cabs, it's well worth finding your way there.