Preston (www.prestonfarmandwinery.com) isn't like other wineries and that's because Lou Preston and his wife, Susan, aren't like other winemakers.  The Preston winery is…different, verging on odd and definitely unique.  They've been making wine there since 1975 and once were into some serious production.  And then in 2001, Lou decided he'd rather be a farmer as well as a winemaker and cut down to 8,000 cases a year.  The land that wasn't left under vine was used for olive trees, grains, vegetables and lambs.  Lots of vineyards used to be farms; only Preston that we know of has a farm where there were once grape vines.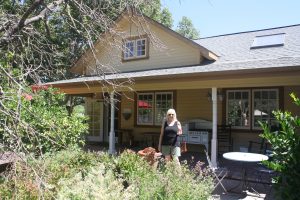 The Preston Farm and Winery tasting room. 
There are many reasons why a visit to Preston is worthwhile.  For one, the winery is very intentionally in touch with the history of Sonoma County.  The building itself looks like an old farmhouse, with clapboard sides and pitched eaves on the roof.  The tasting room is functional and decorated with farm implements, books and the occasional cow horn.  That latter is because everything at Preston is organic.  (The cow horn is used for…well, it's a long story.)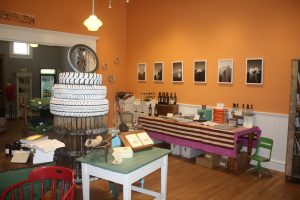 The grounds are a well-kept garden, much as you'd expect for a visit to your rural grandparents, if you ever had them.  There are also picnic grounds in a wooded area, so stop at the Dry Creek General Store on your way to bring lunch.  But be sure to bring extra, because you will have to feed some of the many importunate cats who prowl the grounds.  After lunch or your tasting, you can play a little bocce on their court.
Thankfully, Lou didn't eliminate wine altogether and we always come home from a visit with a supply of bottles.  In the pre-farming days, Preston made an inexpensive red Rhône blend called, cleverly enough, Faux.  It was widely shipped so we never bought it at the winery because we could get it at a local wine shop back home.  In its place today is a powerful blend of Syrah, Mourvèdre, Cinsault, Grenache and Carignan, called without pretension simply L. Preston, which is stenciled on the side of the bottle…and nothing else.  Did we mention that Preston Farm and Winery is a bit eccentric?
As may be seen, the specialty at Preston is Rhône grapes.  The partner to L. Preston is a white blend called Madame Preston, with a similarly simplistic label.  It consists of Roussanne, Marsanne, Viognier and Grenache Blanc.  All the varietals are bottled individually. The Mourvèdre is our favorite, but we haven't been able to buy it for years because it's always sold out when we visit.
As you're tasting, you can usually sample some olive oil and freshly baked bread.  For sure, Lou bakes bread too, though we're not sure that every loaf available for sale at the tasting room has passed through his hands.  As you leave the tasting room, turn right and there's a little country store featuring whatever was recently harvested on the farm.  We've never bought any vegetables because we don't have a kitchen in California, but they do look good.
We miss some of the old wines, especially the aforementioned Faux and a dessert wine that they called Moscato Curioso, with the emphasis on the cat.  Still, we keep coming back to Preston and always will, whenever we come wine tasting in Dry Creek.