Napa Valley is big, 29 miles from Napa to Calistoga.  Sonoma County is even bigger, 1,768 square miles.  (You can look it up; we couldn't believe it either.)  In both cases, there are wineries almost everywhere.  There are 375 in Napa Valley and 425 in Sonoma County.  Words of advice: You can't try them all, at least not in a single trip.  Maybe not in a lifetime.
So if you're going to go wine tasting in these two renowned corners of Wine Country, you're going to have to know how to get around.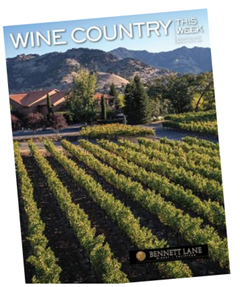 An issue of a free magazine with winery maps.  Photo courtesy of Wine Country This Week.
Plan A: Check a winery map before you go. There are a lot of them available, but if you look closely they pretty much all come from the same source, Wine Country.com.  The maps are fairly detailed and show the location of most of the wineries you'd like to visit.
Pros: It's always a good idea to think ahead about where you want to go on a vacation or a day out.  So, for example, let's say you're really intent on visiting Beaulieu Vineyard.  With a map, you will learn that Grgich Hills, Franciscan and Inglenook are quite nearby.  With a little time for lunch, that should make your day.
Cons: Keep in mind that distances on a map look a lot shorter than what you actually experience when you're there.  The important lesson is to spend your time tasting, not driving from one end of the region to another.  An inch on your screen may be ten miles of weekend traffic.  So read the map with care.
Plan B: Pick up a map when you get there. Almost every winery has a stack of free magazines by the door and many of them contain maps.  The most commonly found magazine is Wine Country This Week, which is mostly advertising for wines and wineries.  And the map is from Wine Country.com.
Pros: Even if you study in advance, it's good to have a map.  With rare exception, every winery has a supply and it does help to know where you are and where you're going next. And magazine maps make nice souvenirs, especially if you circle the wineries you have visited.
Cons: Remember that the free magazines make their money through advertising.  Some of the wineries shown in bold letters or with a big star denoting their locations are in no way the best nor the ones you should necessarily be aiming for.  Maps can lead you to your destination, but they can also mislead.
Plan C: Wing it. Especially if you've been to either Napa Valley or Sonoma County before, you may know your way around.  Google Maps makes this a much more acceptable plan than in years before.
Pros: For some people, a little serendipity makes a wine tasting trip into an adventure.  If you keep your eyes – and your mind – open you may just discover a little gem you drove past on familiar roads in the past.
Cons: We have no argument if taking your chances is your style, but for many others with a limited amount of time to spend wine tasting, it's a better idea to know where you're going.  And just because you think you know the roads like the back of your hand, experience has shown us that things can look a little strange on the back roads of Napa Valley and Sonoma county.  And we have found that for wineries off the main roads, Google Maps can be just flat out wrong.