Pézenas is a quiet commune of 8,000 souls, nestled in the uplands of the Languedoc.  As with most villages in that region, wines are made all around it, mostly blends of Grenache, Syrah and Mourvèdre.  Because of the schist soil, the wines there tend to be a bit stony.  If you are in the region for wine tasting, you should also stop to visit the village.
The local tourist people make a big deal about Molière, who lived there for awhile in the 1650s.  His great acclaim came in Paris later on, but the people of Pézenas claim him as a "local boy made good" to this day.  You'll find a statue of the great playwright across from the Brasserie Molière and the Grand Hotel Molière.  There's a pretty row of cafés there, but they're rather touristy.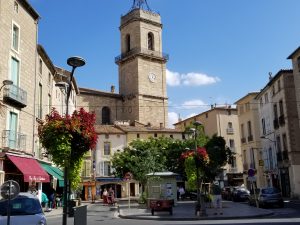 Along the Cours Jean Jaurès in Pézenas, with the Collégiale Saint-Jean in the background.
You should definitely explore the eateries in Pézenas.  On the advice of a local gentleman out walking his dog, we had a superb three-course meal, with wine, for under fifty euros for two people.  Just taking a coffee along the delightfully decorated main drag, the Cours Jean Jaurès, and you know you're in France.
On that same street, the Piscenois (for so the local inhabitants call themselves) host a grand outdoor market every Saturday.  It takes up the entire center of town and is well-attended by the townspeople and tourists alike.
All the above are great reasons to visit Pézenas.  Best of all, nestled within the charming village is a medieval one.  It has been preserved, cleaned up and adorned with the sorts of shops and galleries that tourists seem to adore.  Yes, we could have done with a few less chocolateries, but it is fair to say that people in the Middle Ages must have walked these narrow streets to buy their bread and olives, so why should we scoff at the commerce that makes this little corner of history possible.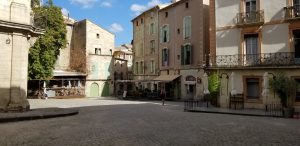 The town square in medieval Pézenas.
You enter through a stone portal on the aforementioned Cours Jean Jaurès and you find yourself carried back eight centuries.  You have choice of streets to follow.  To the right you'll eventually find yourself in the ancient town square.  There you can stop for a meal or a drink and pretend to be a few centuries older than you are.  From there, too, you can choose from among several streets, alleys really, in which to wander.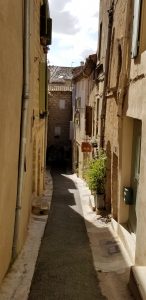 The ancient ghetto of Pézenas.
Everywhere you turn, you're likely to find something to delight your eyes.  Here there's a fountain, there a statue, up the street a merchant's house that you're welcome to inspect.  We found most moving the ancient Jewish ghetto.  Yes, even then, even here, discrimination flourished.  Of course, today this section holds housing for all who can afford it.
That is the overall attraction of Pézenas.  Side by side you find the contemporary, memories of greatness and a wonderfully preserved bit of long-ago times.  And all surrounded by the vineyards of Languedoc!