If you love wine tasting and you love Italian wines (that would include us), you should definitely visit Tuscany.  And if you visit Tuscany, you should definitely spend some time in Siena, a city where the best of the Renaissance seems to be just yesterday.  If you go to Siena, you should definitely wander around at night.  And if you want to have some fun while you're wandering around, you should have some pizza at a restaurant called Il Pomodorino.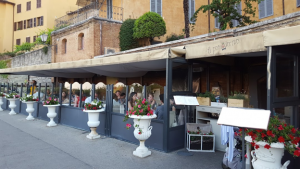 Il Pomodorino in Siena.  Photo courtesy of Casa-Worldorgs.com.
Power Tasting is not in the business of restaurant reviews, so we'll simply say that you can get very good pizza at Il Pomodorino.  That's a lot like saying you can get very good steak at Whole Foods.  It's true, but it's hardly exclusive.  There are a lot of places in Italy where you can get very good pizza and we're not getting into the question of where to get the best pizza.  But we've never had more fun eating pizza than we did at this spot in in Siena.
For one thing, Il Pomodorino is always full and everybody else seems to be having a good time.  There are lots of families and therefore a fair number of children.  Dinner times, by American standards, are rather late in Italy.  We always wonder how the kids are going to make it to school the next day, but they do seem to make it.  There are also young lovers out on a date, older folks still convivial after a half a century, and the occasional tourists.
Unlike many other places in history-rich Siena, there aren't that many foreigners dining at Pomodorino.  That may be because it's a bit difficult to find the place if you're starting from the center of town where most of the hotels are located.  Getting there from the famous Piazza del Campo at the very middle of Siena necessitates walking through some pretty dark streets and back alleys.  For the real Sienese, who mostly don't live in the touristy areas, it's not so hard to get to Il Pomodorino.  For them, it's just down the hill from the big stadium, so maybe the crowds at the restaurant are just post-game celebrants.
The atmosphere at Il Pomodorino just draws you in.  When the other patrons hear you talking English, they'll ask you where you're from.  No matter where you live in the States, you're bound to find out that someone at a nearby table has a cousin living there.  So you're almost a member of the family already.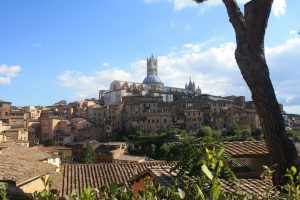 The view from Il Pomodorino.
While you can eat inside, you really want to join the party on the terrace outside.  Perhaps even more important, you are treated there to a spectacular view of the heart of Siena.  The dome and the roof of the Duomo (cathedral) and the Campanile (bell tower) are the most obvious sights, but the tiled roofs over the homes add to the viewing pleasure.  Just below you is the home and shrine of Italy's patron saint, Santa Catarina.  So even if you're not in a party mood, Il Pomodorino is worth it, just for the vista.
If you want to feel Italian and not just a visitor to Italy, we suggest you have a meal at Il Pomodorino.