If you want to visit a winery with some serious clout, go to Plumpjack (www.plumpjackwinery.com) in Oakville in Napa Valley.  It is owned by Gavin Newsome (currently Lt. Governor of California and if the polls are to be believed, soon to be the Governor) and Gordon Getty (yes, that Getty family).  All of which has no meaning whatsoever with regard to the wine tasting experience when you go there.  Plumpjack is laid back, casual and definitely focused on the wine.
A word about the name.  Plumpjack refers to Sir John Falstaff, a character in several of Shakespeare's historical plays.  He was a hearty, hard-drinking rogue and evidently that was the image that the owners wanted to give their winery.
The building housing the tasting room is no Napa palace, though clearly the owners could have afforded to build an architectural masterpiece if they had wanted to.  The fact that it is a quiet farmhouse (or so it seems) nestled within their vineyards says a lot about their approach to their wines: solid, approachable, focused on what's in the glass and not on all the extraneous fol-de-rol that typifies some wine tasting experiences in Napa Valley.
And what's in the glass is of very high quality.  They do make Merlots and Syrahs, but Plumpjack's specialty (and the reason to taste there) is Cabernet Sauvignon.  The rating numbers given by the trade magazines don't mean everything, but consistent high 90's and a scattering of 100's does mean something.  It tells the visitor that almost every harvest produces wines that are well worth tasting.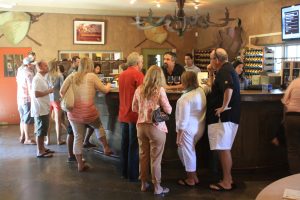 Plumpjack's tasting room
The atmosphere of a tasting at Plumpjack is very important.  Even when the tasting room gets crowded (primarily on weekends) you don't feel rushed or pressured.  The basic tasting charge of $40, while not out of line with other top-tier wineries, does keep down the size of the crowd.  You can stand up by the bar or take your glass outside to the porch or under the vines that grow alongside the building.  The views out over the vineyards add enormously to the pleasure of your tasting.
In addition to the tasting room, Plumpjack offers seated tastings.  One to consider, especially on weekends when you might want to avoid jammed tasting rooms, is Plumpjack's hilltop tasting.  There's a small hill on the property and they have a table at the top where the combination of wine and view are matchless.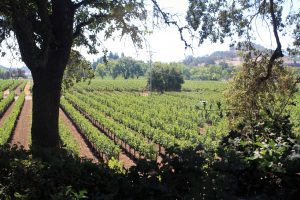 The view from Plumpjack's hill
Plumpjack is a "by appointment only" winery.  It's always a good idea to have an appointment and on weekends it's fairly necessary, but our experience has been that if you arrive and they're not full, they'll make room for you.
Worth noting is that Plumpjack also owns two other wineries, Odette in Stags Leap and Cade on Howell Mountain.  Your tasting at Plumpjack is likely to include some wines from these properties as well.
If your idea of a wine tasting experience is to party in fancy digs, Plumpjack isn't for you.  But if you like serious wine in relaxed circumstances, make your way to Plumpjack on the Oakville Cross just off the Silverado Trail.  You'll be happy there.