The first time we ever heard about the sparkling wines of Iron Horse, it was because Ronald Reagan served it to Mikhail Gorbachev at the White House.  It was such a funny name that we wanted to learn more about it, but it took us a while to actually visit the winery.  As to the funny name, it comes from a railroad spur that was erected in the 19th century specifically to serve a nearby winery.  The fact that Iron Horse is located on Ross Station Road in Sebastopol indicates there was once a stop there.
Aside from the wines, which we'll get to later, there are three reasons to visit Iron Horse.  The first of these is that it is family-owned.  In these days of corporate takeovers, it's a good idea to support the families who develop, farm and vinify on their own.  Sure, there are software zillionaires who buy wineries as a hobby.  They have families, too, but they're not real wine people.  We should all help to make sure that these traditions continue.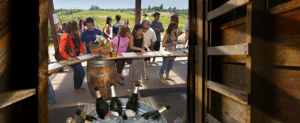 Tasting at Iron Horse.  Photo courtesy of the winery.
The second is the tasting room.  Or, rather, make that the tasting "room".  It's actually an extended shed with a porch outside and an overhanging wooden roof (so that tasting is possible on a rainy day).  On that porch, there are rough-hewn planks suspended between wine barrels.  Here you can sip rather elegant sparkling wines, physically proving that these wines don't have to be reserved for fancy occasions.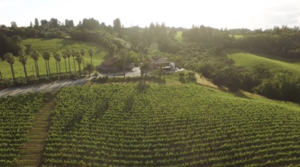 The view from the Iron Horse tasting "room".  Photo courtesy of the winery.
Finally, if you tear yourself away from looking at the wines and turn around, there is one of the most impressive vineyard views in Sonoma County, or maybe anywhere.  The tasting area (let's stop calling it a room) is atop a steep hill and the vineyards extend through the valley below.  So when you visit, don't just stand at the "bar" (there's something about the Iron Horse experience that just demands quotation marks).  Turn around a look over the rows of vines, or better still take your glass and sit on a bench, soaking in both the wine and the view.
As to those wines, Iron Horse does make some still wines, Chardonnays and Pinot Noirs.  There's nothing wrong with them, but they're not the reason to visit.  Iron Horse is famed for its sparklers, and justly so.  They make twelve (!) different sparkling wines, ranging from an ultra-brut to a somewhat sweet wine that they claim is the best choice for a toast.  Their biggest seller (and the one often served at the White House, over five more administrations) is their Wedding Cuvee.  The name is clever marketing for a beverage that often accompanies nuptial celebrations.  They say that it's their "interpretation" (those danged quote marks again) of a Blanc de Noir, but they use some Chardonnay so it's not really pure white wine from red grapes.
It seems that Iron Horse hasn't been served at the White House in the current administration.  So, come on, Joe, get with the program.
We admit to a weakness for any winery that still offers service behind two barrels and a plank, but as noted there are lots of reasons to visit Iron Horse.  It's a bit of a trek across Sonoma County to the far reaches of Green Valley, but's it's worth the trip.