A long time ago, Steve made a trip to the Hunter Valley in Australia where he had his first experience in wine tasting in that country.  How long ago?  So long that most of the world had not yet learned that Australia was producing wines of high quality.  Penfold's Grange and Henschke's Hill of Grace were each US$25 at that time; today they're around US$840 at one of the better wine stores in New York.  Even considering inflation, these wines are no longer the bargains they were then.
The Hunter Valley is a drive up the coast from Sydney to the town of Pokolbin.  As in many big cities, the stars were difficult to see at night in Sydney, but out in Wine Country, the sky was ablaze with them.  You can see the Southern Cross in the darkness of a country night.  Frankly, it's a bit disappointing.  It's a nice constellation, but so is the Big Dipper (which is easier for us Northern Hemispherians to find).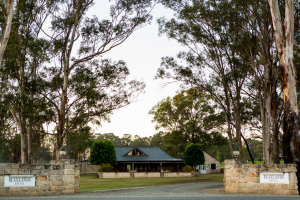 Blaxland Inn, Pokolbin.  Photo courtesy the restaurant.
Across from the hotel, there was a restaurant called Blaxland Barn, today known as the Blaxland Inn.  Sitting down at the table, the hostess asked if he wanted a damper.  Hmmm, what's a damper?  It's an iconic Australian bread, somewhat like Irish soda bread, associated with swagmen in the Outback.  And what's a swagman?  He's an itinerant farm worker or in some cases what we would call a hobo.  If you've ever heard Waltzing Matilda, you know all about swagmen.
When it came to ordering wine with dinner, everything on the list was simply an unknown name.  So the hostess was asked to help.  She hemmed and hawed a bit and then said, "Well (pronounced wail in those quarters) there is one but it's a bit dear.  Oh, but not for you."  She must have figured that anyone who could afford to travel to the Hunter Valley all the way from America could afford ten Aussie bucks for a bottle of wine.  That's what prices were like in those days.  It was a Tulloch Shiraz and it was exceptional.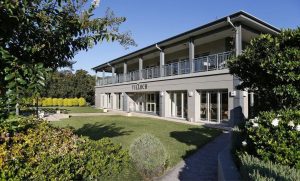 Tulloch winery today, not at all what it was back then.  Photo courtesy of vineyard.com.
The next day the serious wine tasting began, starting with Tulloch's.  Other wineries visited included Tyrell's and Lindeman's.  It's hard to tell after all this time whether these were top places to go or just the ones known about at the time.  But the welcome that an American wine enthusiast received was wonderful.  Servers opened all sorts of bottles, pouring out verticals and horizontals all day.
There are a few lessons to be learned, even if you never visit Australia and if you will not be as surprised to find high-quality wine there.  Just get used to the fact that you're a babe in the woods regarding these wines unknown to you and let your hosts (and you nose and tongue) be your guides.  This bit of advice applies whenever you visit someplace you've never been before, trying wines you've never heard of.  Sure, sometimes you'll be disappointed.  But just as often, you'll have the chance for wonderful discoveries.