At virtually the eastern-most extreme of the Minervois region in southwest France, there is a winery in the village of Bize-Minervois called Château Cabezac (www.chateaucabezac.com/copie-de-home).  It is housed in a yellow building that combines Mediterranean architectural touches with some medieval parapets and an inviting terrace where you can sip your wine under skies that seem always to be blue.  You may encounter some confusion because there is also a Château de Cabezac just down the road which is an actual castle renovated today into a hotel.  It is not associated with the winery.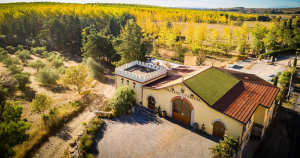 Photo courtesy of the winery.
 Cabezac makes sprightly, fruit-forward wines that are respectful of the terroir.  Most of their wines are from the traditional Rhône-style grapes:  Grenache Noir, Syrah, Mourvèdre, Carignan in the reds and Roussanne, Muscat Sec and Grenache Blanc in the whites.  With thirteen wines to choose among, you can have quite a tasting.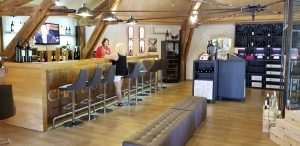 The tasting room is handsome and airy, made largely of wood.  When we were there it was not very busy, but that was a weekday in late September.  We understand from our server that it can be quite bustling at times, which makes their terrace even more valuable.  We received quite an education in Cabezac's viticulture and winemaking philosophies.  We also learned that the same proprietor has properties in Calvados and Champagne, producing the wines and spirits associated with those regions.  Alas, they were not available for tasting.
Cabezac takes its tasting program quite seriously.  Of course, you can just drop by as we did and have a standup tasting of four wines (although we found that "four" is more of a concept than a limitation).  They also offer half-day and full-day tastings that include more extended explanations and tours.  Cabezac also has a program for corporate clients to host tasting events there.
Cabezac is a relatively young winery, established in 1997.  The proprietor, Gontran Dondain, has invested in wine making in a modern, sanitary manner.  We found that these practices at Cabezac are exemplary of a trend that has, happily, swept across Languedoc.  Improved winemaking practices are being followed across the Languedoc region.  When you visit Cabezac tasting room, you'll find a window that allows to view the production facilities.  They are gleaming and spotless, indicative of the investment and the care that has gone into this winery.  We have observed this in many other leading wineries in the region.
Where once wines were thin in the mouth and harsh in the throat, today Languedoc wineries such as Cabezac are producing wines that, in our opinion, are comparable with many of those from the Rhône valley (excluding the top-most in that region).  Many of the new generation of Languedoc wineries have adopted bio and vin methode nature growing techniques.  Although Cabezac is not among these, they did tell us that they are scrupulous about their growing methods.
Sadly, Château Cabezac's wines cannot be found in the United States, to our knowledge.  It does make a worthwhile stop if you are wine tasting in southwest France.