As you travel up the Napa Valley, you drive through several small towns, including Yountville, St. Helena and Calistoga.  They are charming, but they are generally one main street, four or five blocks long, that feature restaurants, tasting rooms and galleries.  They are not small cities.  But at the bottom of the valley there is the town of Napa.  With a population of nearly 80,000 people, Napa is a small city with all the plusses and minuses the term implies.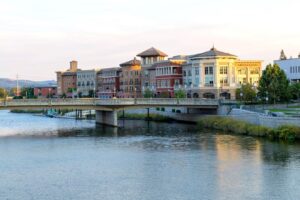 The view from the Napa River.  Photo courtesy of Hotels.com.
Napa has a distinct downtown of about thirty square blocks.  Unlike the other towns mentioned, there is a definite urban feel to Napa.  At one time, not so long ago, there wasn't much to interest the visitor.  Those days are long past.  Today there is a vibrancy there that owes a lot to wine tourism, of course, but also to some civic decisions to make the town more attractive to visitors.  Alas, this has resulted in nearly impossible parking near places you might want to go, although valets and large parking lots have eased the situation.
In 2015, we wrote about wine tasting at Napa's in-town tasting rooms.  The overall tone was, well, less than exultant.  There weren't many places to go and the quality was spotty.  At last count, there are now about thirty places in downtown Napa where you can have a tasting.  We haven't visited all of them by any means, but we can say that there are some fine wines to be tried there.  Some of the better known labels are Alpha Omega, Buena Vista and Mayacamas.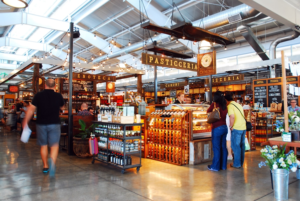 The Oxbow Public Market.  Photo courtesy of Candlelight Inn.
We have written before about the Oxbow Public Market.  It falls somewhere between a tourist attraction and a local food and wine resource.  A bit away from the downtown area (or maybe now an extension of it), the market is certainly worth visiting, both for wine tasting and dining or both together.  And the views of the city are superb.
Napa is the seat for the county.  Therefore, there are all the public services there such as the county government, police and fire departments.    In that same vein, it's where you will find doctors, dentists and barbers.  It is unlikely you will need them and they aren't among the reasons for which you would visit Napa, but it's good to know where they are, just in case.
Much of the renaissance of Napa Town has been led by the restaurants, of which there are many.  We have long had our standbys, including The Bounty Hunter and Cole's Chop House.  We also like to experiment with new places, and as with all experiments sometimes we have been happy and sometimes not.  As with much of California, there is a large Mexican population in Napa, so there are now several Mexican restaurants.  In fact, as you drive into town along Soscol Avenue, you will see truck after truck selling Mexican fare.
If you are touring Napa Valley, you ought to include some time in Napa Town.  As we have previously counseled, it is often a good idea to avoid Route 29 on weekends and spend time doing in-town tastings.  For that, Napa should definitely be on your list.