Going wine tasting on Long Island's North Fork is a day trip for New York City residents.  Except it isn't.  Figure two hours each way on the Long Island Expressway if you're very lucky and it's easy to see why it's a good idea to plan for at least one overnight stay.  Moreover, that gives visitors a chance to take in the little villages and towns along the skinny peninsula at Long Island's northeastern end.  (The southern fork is where rich New Yorkers go to get away from other rich New Yorkers.)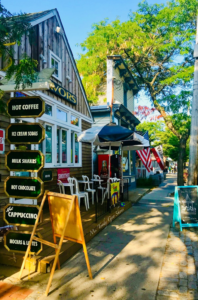 Photo courtesy of Pinterest.
Once you pass through Jamesport, Mattituck, Cutchogue, Peconic and Southold you'll get to Greenport.  It's the largest village on the North Fork, but it can hardly be called a town, much less a city.  It is where you'll find the most inns, restaurants and retail establishments.
These days, the major industries in Greenport are tourism and wine, which are obviously related.  It's a scenic village with roots back to the 17th century, when it was settled by people expanding beyond New Haven in Connecticut.  At one time, fishing, oystering and whaling were the primary means of livelihood in Greenport.  The oceans were overfished and the waters became too foul for oysters and the North Fork became known for agriculture, in particular duckling and potatoes.
Greenport always retained its maritime character and many people still make their way there to sail their pleasure craft.  There is a thriving business in charter fishing, which is not our thing.  But we hear from others that at a non-industrial scale the waters are plentiful with bluefish, flounder and other flatfish, fluke, striped bass, porgies and sea bass.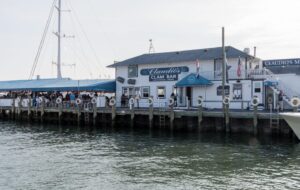 Photo courtesy of Food & Wine Magazine.
We prefer to take our fish one at a time, on a plate with a little lemon sauce.  Greenport is famous for its restaurants, all nautically themed with names like the Frisky Oyster and Crabby Jerry's.  Quite a few are elegant spots with fine wine lists and views of the marinas.  Others are more casual, with picnic tables rather than white tablecloths.
A half century ago, when Alex and Louisa Hargrave decided that potato fields might also do well with grape vines, they created an attraction that continues to bring many visitors to the North Fork and into Greenport.  Now, Greenport is not St. Helena or Healdsburg, but for those whose idea of a good time is a glass of local wine on a charming patio (AKA the readers of Power Tasting), Greenport is a place to visit.
There is a New England vibe to Greenport, some of which is mostly its natural heritage and little bit the creation of town planners.  Either way, a wine tasting trip with time given to enjoying the pleasures of an authentic fishing village, polished up to be sure, is well worthwhile.  Unfortunately, Greenport gets crowded in summer and empties out the rest of the year.  We enjoy a midweek getaway in late May or early September best of all.