Some time ago, we took a class at the Joseph Phelps winery in St. Helena on the subject of cooperage, the making of wine barrels.  We learned that the source and treatment of the oak makes a distinct difference in the taste of the wines matured in them.  Then, on a visit to Paso Robles we got a graduate course.
The location was the Écluse winery (www.eclusewines.com), on a hill on the west side of town.  Écluse is the French word for the locks that accommodate slopes in canals, opening and closing to allow boats to pass at different levels.  The owners are Steve and Pam Lock, hence the name of the winery.  We had heard about their Rhone varietals and asked for an appointment to come visit.  Like many wineries in Paso Robles, Écluse is only open for the public on weekends.  As we were in the area Monday through Thursday, a special appointment was de rigeur (more French).
We pulled into a gravel lot in front of a barn-like structure and were greeted by Steve Lock himself.  Inside the barn were racks of barrels full of maturing wine and a small bar area with some boards stretched between a few barrels and wine bottles resting on them.  This was wine tasting like it used to be, Napa in the '70s!  We explained to Steve that our interest was in the Rhone grapes and he was happy to oblige us.  Then he explained that Écluse is as well known for its Cabernet Sauvignons as its Rhones.  Would we like to try some?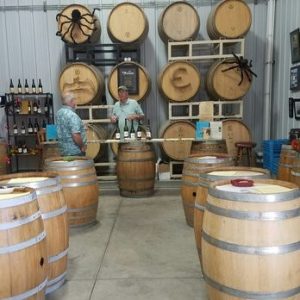 Steve Lock serving in the barrel room.  Photo courtesy of Yelp
We guess we must have given Steve an idea that we were really interested in wine because he then involved us in a fascinating experiment.  He had juice from the same vintage of his Cabernet Sauvignons aging in new French, American and Hungarian barrels.  The French barrels have the finest grain, imparting a mellow, oaky flavor.  The Americans have the widest grain, giving the wines a distinct top note.  The Hungarians are in-between and project a creaminess to the wines.  Steve took a wine thief and poured some of each, one at a time, into three different glasses.  We sipped each and had never understood the impact of the cooperage on the taste of wine as much as we did that day.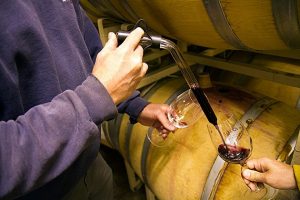 A wine thief in use.  Photo courtesy the Weekly Grape.
Then we got to play assistant winemaker.  Steve gave us each another glass and encouraged us to blend some of the wine that we still had from the three barrels.  We have no memory of what we made that day, but we are quite certain that it wasn't as good as what came out of the bottle we received a few years later, since we joined the Écluse wine club that day.