If you've decided to go wine tasting in Napa Valley, you'd better make advance reservations and be prepared for an experience lasting at least an hour.  [This is largely true for Sonoma County as well, but let's keep the focus on Napa Valley.]  You'll sit at a table and be served one wine after the other, usually four or five, often with something a little special added in, especially if you express an interest in a particular grape or a style.  Just keep in mind that the server will bring you the next wine to taste whenever he is available and after serving other customers.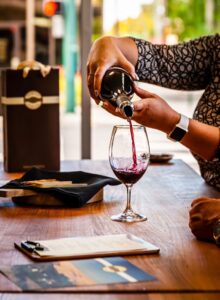 Photo courtesy of Spring Valley Vineyard.
The above is good advice but it's not entirely true.
Walk-ins are still available. It helps, we've found, if you appear a bit abashed, saying, "Gee, we don't have a reservation, but do you think you can take us without one?"  If the tasting room (or more likely, in good weather, the tasting patio) isn't busy, they'll take you.  Groups of two will be taken, but larger than that and you're less likely to be seated.
The issue is labor shortages. We have been told that the reason for the "by appointment only" policies is that qualified tasting room staff are hard to find in the years after the end of the acute phase of the pandemic.  If the schedule for the day is known in advance, they can staff appropriately.  However, although most wineries won't admit it, they often have staffed up for some walk-ins.
It's easier at the lesser-known wineries. The biggest labels, which have historically drawn the most visitors, are the most likely to enforce their reservation systems.  You can tell by checking their web sites.  If they state that they have a strict reservations-only policy, they probably mean it.  Many of the wineries that aren't household names are eager to please and attract new customers.  And quite often we've found that there's little or no sacrifice in the quality of the wines we have tasted by sticking with the smaller wineries.
It's also easier at the less busy times of day. You are more likely to find availability if you arrive just as the tasting rooms open their doors or an hour before they close them.  The morning is better.  The servers are more chipper and they're not in such a rush to get home.
And you have a better chance on weekdays. Naturally, wineries are busier on weekends, just as they were before the pandemic.  But the reservation-only regimes have eliminated the wild party mob scenes of yesteryear, and that's not bad at all.
You may not get prime seating. If it's a beautiful day and you want to sit on the veranda, you may find that you can only be accommodated inside.  The wine tastes exactly the same and since you didn't make an appointment, you have no right to complain.
Maybe ask for all your wines to be poured at the same time. If you are a fan of the extended tasting experience that is the rule in Napa Valley today, by all means let them serve you one wine at a time and plan to sit there for more than an hour.  But if you need a lunch break or have an appointment at another winery, you can save some time and reduce the irrelevant patter by having all four or five wines poured at once.