Power Tasting is not in the business of restaurant reviews, so this is not a restaurant review.  Yes, Gott's Roadside is a restaurant but in its way it's a great deal more.  It is definitely a place to visit if you are going wine tasting in the northern end of Napa Valley.  Gott's is an institution.  Now, an institution might seem a bit stuffy, but this one definitely is not.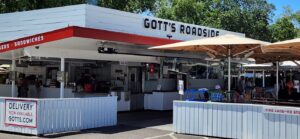 As you drive along Route 29 into St. Helena, you can't miss it there on your left.  It's a big white building with lots of parking and seating all around it.  There's quite a history to go with it.  Originally, it was known as Taylor's Refresher, established in 1949 by Lloyd Taylor.  At that time, Napa Valley was mostly planted with fruit trees not grape vines, and the clientele must have been largely farmhands and truckers.  It was an unapologetic burger joint that, as we remember it, was a place to get a quick meal but not a destination.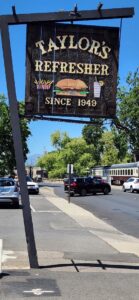 In 1999, Mr. Taylor's heirs sold the restaurant to the brothers Duncan and Joel Gott.  Together, they were entrepreneurs; Joel was an is a winemaker as well as a restauranteur.  (Duncan has since passed away.)  They kept the name, Taylor's Refresher, until 2010 when they changed it to the current name.  They also significantly expanded the place.  The Taylor family was a bit upset that their name was being lost, so it seems that the settlement was to change the name but keep the old sign.
Gott's is still a burger joint, but in keeping with "Napa Style", it's somewhat fancier than that.  The beef is Niman Ranch.  There are salads, tacos and sandwiches as well; we have no idea how they taste because we've only ever ordered hamburgers.  And what kind of burger joint has a wine list?  For some legal reasons, Joel Gott's wines aren't served there anymore.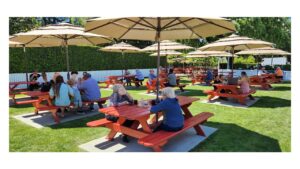 Part of the reason for eating at Gott's Roadside is to be able to say you've eaten at Gott's.  It's the same reason people have their pictures taken in front of the Eiffel Tower – to prove they've been there.  There are some excellent restaurants just up the road in St. Helena, but none of them have the retro cachet of Gott's.  You'll be able to say "yes" when friends ask, "Did you have lunch at that famous burger place?  What's it called again?"
Another reason, a better one in addition to the food, is to partake in a tradition with all the other folks dining there.  Part of the seating area is under canopies next to the parking lot and there is also a grassy picnic area where families gather; kids run around; and there's a general sense of fun.  Just eating there makes you feel like you're a part of Napa Valley, not just visiting it.
There are now Gott's establishments in other locations.  Don't be fooled.  They're just restaurants, not pieces of Napa Valley history.