Despite the title, this is not really an article about wine clubs.  In keeping with the Power Tasting credo, we are writing about the effect wine clubs have on the experience tasters have when visiting Wine Country.
These clubs are primarily an American phenomenon, although we have recently learned that a few European wineries are considering them as well.  Here are the basics:  joining a club is free but it entails a commitment to receive shipments from one to many times a year.   There are some clubs that require you to buy as few as six bottles annually and many call for purchasing a case each year.  Some allow you to choose what you want to receive but most will send you whatever they want to send you (usually the bottles they have trouble selling otherwise).  In return, you receive a discount on purchases, free tastings when you visit their wineries and invitations to special events.
[There are a lot of qualifiers here: "some", "many", "most".  That's because each winery structures their clubs differently.  Be sure to read the fine print if you plan to join.]
Before considering the benefits of membership, let's look at the negative impacts on wine tasting visits.  At some wineries, especially those with sit-down tastings, the servers do a lot of pressure selling.  We have had bad experiences at Far Niente, Nickel & Nickel and Domaine Carneros in that regard.  There you are, at a table full of bottles and glasses, and the nice person who has just taken you on a tour and poured you some wine says, "No pressure, but…" and begins the sales pitch.  If you have some decent sales resistance, it's no problem.  But it does detract from what would otherwise be a very pleasant experience.  And since there is usually a fairly hefty charge for these seated tastings, you've paid to be a sales target.  If you've ever been to a sales meeting for time shares, you will recognize the nasty feeling it leaves with you.
On the other hand, being a member can really enhance your overall tasting experience.  At the present time, we are members of six clubs, and there are about as many again that we once joined and then left.  As members, you are more likely to return to that winery often and the staff will get to know you.  That alone makes your visit more pleasant. In most cases, wineries have a menu of what is available for tasting that day.  However, wineries generally have no inhibitions about opening everything they have for people who are already committed to purchase in quantity every year.  So you wind up with more to taste of wines you've already selected as favorites.  The fact that you've tasted all of them in the past is no drawback; each wine is different each year.
Many wineries have special areas that are for members only.  A bit snobbish perhaps, but you'll appreciate this if you're visiting on a weekend.  And you can bring a few friends with you, so having a private area makes it more fun for your small party.
What we have found best of all is the invitations we receive to our clubs' private parties.  If you reside near the wineries, you can really live it up.  For those like ourselves who need to take a plane and stay at a hotel, it's difficult to take advantage.  Still, the ones we've attended range from good fun to grand events.  We have always had the chance to meet and chat with the winemakers and often the winery owners (although now that so many are owned by big corporations, that's harder to do).  They always serve food that complements their wines.  (We once decoded a particularly good ragu and will post the recipe separately.)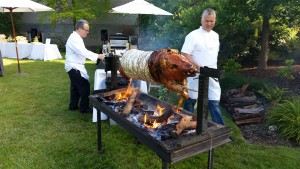 The guest of honor at Etude's annual pig roast

 And then then there are the big blowouts.  Last summer we took up the invitation to Etude's annual pig roast.  Seated at a table on the lawn outside the winery, we feasted on a whole porker that had roasted over an open fire all day.  Cooks brushed it regularly with olive oil soaked laurel branches.  We were fortunate to sit next to Jon Priest, the winemaker-in-chief.  Oh, and the wines – a selection of pinots from across the top of Etude's line, including Heirloom, their finest.  Was it worth the membership?  It sure was!
Lucie sips while Etude's Jon Priest says a few words