We have found that the toughest times on a wine tasting trip are the hours after wine tasting and before dinner.  You've come back to your hotel from your last winery of the day, maybe gone for swim, freshened up…and now what?  On other types of vacations, you'd find a nice lounge and have a pre-dinner drink.  But you've been sipping wine all day and you'll possibly have some more with your meal, so more alcohol at this point is not a good idea.  A little shopping in Sonoma, Yountville, Healdsburg or St. Helena would be nice but the stores are all closed.  Where to go?  What to do?
If you are in or around Santa Rosa on a Wednesday evening in warm weather, here's a suggestion: the Wednesday Night Market on 4th Street near Courthouse Square.  If you'd like to spend a little time getting to know the local populace and not just hanging out with wine snobs, come on down.  There's a high chance that you'll be rubbing shoulders with the same people who farmed the grapes and made the wine that you were sampling all day.  They're out to buy things they need, listen to some music, party a bit and generally enjoy themselves.  You can join them.
The Wednesday Night Market is actually a street fair and a farmer's market mixed together.  It's a long row of little tents where vendors sell food, drinks, crafts, art, knickknacks, household services and, most particularly local produce.  Scattered among the booths are music venues, leaning heavily to country & western and Mexicana.  People use the term "dancing in the streets" to imply joyous celebration, so on these summer evenings you can come be a part of it.  There are also many children's activities, which for some wine tasting visitors may solve yet another problem.
You can enjoy an ambulatory meal of local specialties, mostly Mexican-inspired, like tacos and grilled turkey legs.  Of course, the usual hot dogs and pizza are available too.  (The food at the numerous street fairs in New York City are more Italian-flavored.  We didn't see any calzones or zeppoles in Santa Rosa).  There are little terraces where you can sample Sonoma County wines, which you have probably been doing all day anyway, or chug a cold beer on a hot night.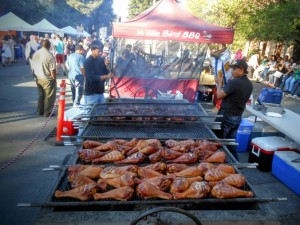 Photo courtesy of the Rincon Valley blog
The best of the best of the Santa Rosa street market is the produce.  In case you had forgotten, you will immediately remember that California is the fruit basket of the United States.  Go from one stall to another and vendors will offer you samples: peaches, plums, radishes, strawberries, carrots, cherries, melons and tomatoes.  Oh, the fruits and vegetables of summer in California!  Everything is fresh, colorful and bursting with flavor.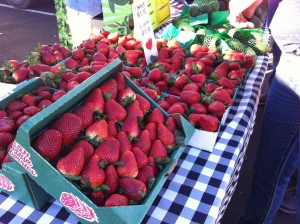 Photo courtesy of KQED
You, or at least most of you, don't live in or near Santa Rosa, so what are you going to do with anything you buy?  Hopefully you have a refrigerator at your disposal at your hotel, so your purchases will last a few days.  Even so, your mouth will be bigger than your belly.  So what?  Of course, it's always a shame to throw away food but the prices at the Wednesday Night Market are so low, especially with regard to the quality you get, that we're probably talking about less than you paid during the day for a tasting at a single winery.  So get yourself peaches or strawberries that you'll remember forever.
In 2017, the market will occur on Wednesday nights from 5:00 to 8:30, from May 3 to August 16.  Enjoy!