In our travels, we have often experienced the excitement of discovering a new winery or a new wine that we had never heard of.  In general, we enjoy the beauty of the architecture of many wineries and the sight of endless vineyards never fails to thrill us.  Sadly, these wonders can be undermined when a winery doesn't take care of some basic amenities.
The first of these is parking facilities.  If we are visiting in the autumn and winter months, we don't care as much if the only parking spots available are in the bright sun.  But if we're in Wine Country in July or August, we really appreciate a spot that's shaded from the sun by a wall or some trees.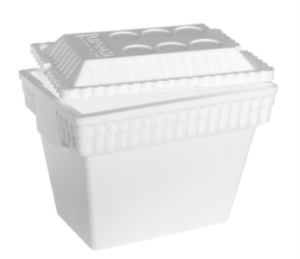 For one thing, we are likely to have some bottles we have previously bought sitting in the car.  We don't want them to be cooked.  Here are a few tips.  Pick up a simple Styrofoam cooler at a drug store or grocery.  If you happen to have a mini fridge in your hotel room, buy a few ice packs and put them in the cooler.  You can also buy a Styrofoam shipping box from the first winery you visit and put your new bottles in it.  Keep it inside the car, not the trunk.  Add bottles as you buy them.  At the end of the day when you get back to your hotel, bring the bottles with you, leaving the Styrofoam box in the trunk for the next day.  (Of course, if you're tasting near your home, just use the cooler you take on picnics or camping.)
If you don't have a cooler, put any bottles you buy on the floor in front of the rear seats or under the front ones.  This isn't a perfect solution, but it's better than leaving your newly bought wine in the full sunshine.  This is good practice even in the cooler months, when wine can still heat up in a closed car in the sun.
We love picnics and often dine al fresco back home.  A picnic lunch near the vines, with a newly bought bottle of a cool and refreshing Sauvignon Blanc is one of the best ways to maximize the pleasure of a day in Wine Country.  But some proprietors don't like the mess and the critters that show up to share a meal with their visitors.  In some jurisdictions, the local elders limit or deny licenses for picnic grounds.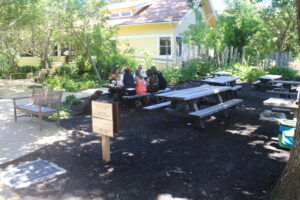 Picnicking at Frank Family Vineyards.
For example, only those wineries that predated Napa County's restrictions are allowed to have facilities for picnics.  Perhaps the best known is V. Satui, in St. Helena, which has a fine delicatessen as well as wines that they produce.  Others with picnic grounds that we have enjoyed in Napa Valley are Rutherford Hill and Frank Family.
The wineries in Sonoma County are not so restricted.  We particularly recommend Dry Creek, Preston and Chateau St. Jean.  In Europe, picnicking isn't frequently encountered at the châteaux and domaines.   But nobody cares if you bring a blanket and make yourself at home by the side of a vineyard or in a churchyard.
Finally, we expect any public location, especially one that serves liquids as a business, to have clean, well-lit restrooms.    We don't insist on showplaces right out of Architectural Digest, but there's no excuse for not keeping them clean and tidy.  Nothing can spoil a tasting visit like a dirty john.  We won't name names, but they know who they are.