Power Tasting's normal practice is to review one winery each issue.  But whole there are many wineries in Saint-Chinian making quite good wine, there are no standouts so we thought it best to review a group of them to give a sense of what wine tasting is like in the region.
Saint-Chinian is an appellation d'origine contrôlée or AOC.  Within it there 20 communes or sub-regions.  There is a difference between the wines from the rockier souls of the north and the clay/limestone of the south, so we are offering capsule descriptions of four, chosen for their proximity to the town of Saint-Chinian.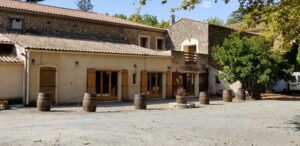 Château Belot
Château Belot is in the Pierrerue commune and is nestled in the midst of its vines and plentiful garrigue.  (What is garrigue, you ask?  To say it is wild-growing brush is true but doesn't say enough.  It has an earthy herbal aroma that somehow manages to infuse itself into many of the wines of the Languedoc.)  The building housing the winery and tasting room is an expression of the Spanish-influenced architecture often seen in Saint-Chinian.
As is common in Saint-Chinian, all of Belot's wines are made with the customary Rhône grapes: Grenache, Syrah and Mourvèdre in the reds and more variety in the whites made from Viognier, Chardonnay, Grenache Blanc and other grapes.  The tasting room is simple and modern.  There aren't a lot of visitors, so one server manages to attend to all guests.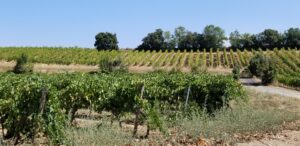 The vineyards of Château du Prieuré des Mourges
Even smaller is the Château du Prieuré des Mourges, also in the Pierrerue commune.  The domaine was once the property of the bishops of some nearby towns and there may have even been a priory there.  There is no tasting room as such, but there is a room where you might well find the winemaker, Jérôme Roger, at work and happy to share a glass with you.
He doesn't make a lot of wines but we found the wines of Prieuré des Mourges to be among the richest in the area.  Enjoy them while you're in Saint-Chinian because they do not export to the United States.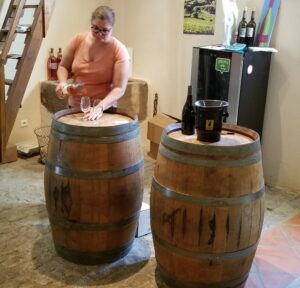 The tasting room at Château La Dournie
Château La Dournie has been passed from mother to daughter for many generations.  Located in the Saint-Chinian commune, right outside the village, it is rather spartan and industrial although the building is attractively vine-covered.  The tasting room is evocative of Napa Valley in the 1960's: two barrels and not even a plank between them.
Like the others, La Dournie makes a variety of red, white and rosé wines from traditional Rhône grapes.  Most are meant for consumption with meals, but they also make wines called Shebam!, Wizz! and Oops! that you just can't takeseriously.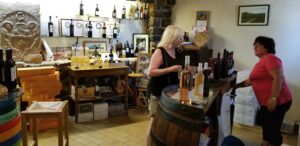 Tasting at Clos Bagatelle
Clos la Bagatelle, is located in the Saint-Chinian commune, but has parcels of land in four different areas.  It dates back to 1623 and has been in the same family – mother to daughter – for all that time.  The tasting room is not much more than a shed and the inside, while clean and well lit, is hardly more than two half barrels.
A visit to Clos la Bagatelle is interesting in that you get a chance to taste the work of a Saint-Chinian winemaker from lands around the Languedoc.  As with all the wineries mentioned here, you will be welcomed and well attended if you do stop by.