It gets a little confusing writing about Stag's Leap (https://www.stagsleapwinecellars.com/).  It's all about the apostrophe.  The district or AVA it's in is Stags Leap (no apostrophe), a simple statement that stags do leap. Stags' Leap (with a trailing apostrophe) refers to the leap used by many stags and is also a different winery nearby, best known for its Petite Sirah.  And the leap used by a single stag – Stag's Leap – is the one we're talking about here.
Stag's Leap Wine Cellars is a winery of almost mythical importance in Napa Valley.  Started by Warren Winiarski in 1972, his Cabernet Sauvignon was the winner of the famous Judgement of Paris contest in 1976 that put Napa Valley solidly on the map of Wine Country.  In 2007, Mr. Winiarski sold Stag's Leap to an international consortium and it hasn't been the same since.
That last sentence might be interpreted negatively, but it was only intended to say that for the visiting wine taster, the experience is totally different from what it once was.  We make no secret about our nostalgia for the old Stag's Leap and have written about it in the past.  It was the House that Winiarski built, made of wood and redolent of history.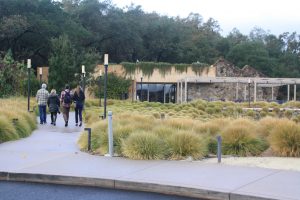 Today's visitor will find a modern, architecturally interesting building made of stone and glass.  After you park your car, you approach the building through a garden of desert shrubs.  If that seems a bit strange for Napa Valley, we think it's just to set you up for the lushness of the vineyards on display behind the building.  As soon as you enter into the building, you'll be welcomed by a concierge, as they call their greeters, who will first check if you have a reservation and then direct you to an server whoa will introduce you to their wines.  Through a vast glass window, you see some of the most storied vineyards in California: S.L.V. and Fay.  These have been producing top tier Cabernet Sauvignons for decades and each produces single vineyard wines.  (It was the S.L.V. that was the victor in Paris.)  They also make a wine called Cask 23, which combines the grapes from the two vineyards.  There is another nearby vineyard where they raise grapes for Chardonnay and Sauvignon Blanc, but it's the reds that make Stag's Leap famous.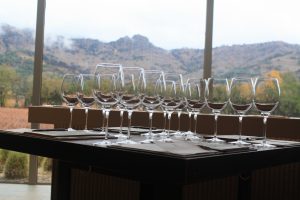 Visitors are presented with all of these wines.  We recommend that you ask your server to pour all three of the Cabs at the same time so you can go back and forth and compare them.  We also suggest that you ask if they have any of their Artemis Cabernet Sauvignon available.  This wine is a blend of sourced grapes from around Napa Valley.  Call us Philistines but we often like this wine as much as its more reputed big sisters.
On the basis of several visits, we find that the servers are quite friendly but not deeply knowledgeable about the wines they are pouring.  They're more hosts than educators.  But they are well-versed in the history of the winery and seem eager to make certain that you enjoy your visit to the maximum.
No, Stag's Leap isn't what it once was, but what is?  It is only fair to rate the winery on the basis of the experience and the wines that you have today.  And on both scores, a visit to Stag's Leap rates high.