Napa Valley is Cabernet Sauvignon country, and has been since the 1970s and before.  Duckhorn Vineyards (https://www.duckhorn.com) goes back to those days and indeed makes some fine Cabs.  But from the beginning it has been Merlot for which Duckhorn is best known.  In the early years, Duckhorn was little more than a shed high up the Silverado Trail in St. Helena.  If you stopped by, you might have run into Dan Duckhorn himself filling orders.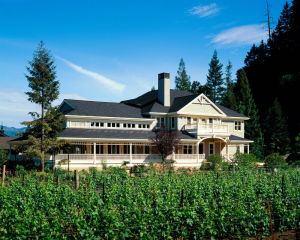 The Duckhorn winery.  Photo courtesy of Gould Evans.
Some things about the "good old days" are best left to the past.  Today a wine taster visiting Duckhorn will find a graceful grey building, looking very much like a farmhouse as Norman Rockwell might have imagined it.  Surrounded by vines, the scene just invites you in for a warm welcome, some wine and relaxation.
There are a number of things that make the wine tasting experience at Duckhorn different than at other wineries.  First, you pay for your tasting on your way in.  Of course, you pay first at the movies or the theater and wine tasting is more like entertainment than bar-hopping.  Nonetheless, it does feel a bit commercial.
Once you're inside, there's something you notice right away: ducks.  There are murals of ducks, paintings of ducks, decoys, statuettes, paraphernalia of ducks, everything but live quackers.  There is no doubt that you are at DUCKhorn.
All tastings are seated, served affairs in a sun-filled, high-beamed tasting room.  You will have a selection of Duckhorn wineries and often those of some of their sister wineries such as Paraduxx and Decoy.   You will always have some of the signature Merlot, as well others of their wines, which include Cabernet Sauvignon, Cabernet Franc, Chardonnay and Sauvignon Blanc.  The servers, for the most part, are well versed in the wines they pour and can explain a lot about what you sample.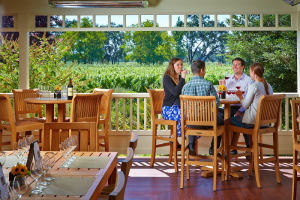 Tasting on the veranda.  Photo courtesy of Duckhorn Vineyards.
Another option is to take your glasses out to the wrap-around veranda and sip while you take in the vines and the Napa Valley hills.  There is something about the ambience, the quality of the wines and the interaction with your server that just relaxes you.  A walk around the gardens in warm weather only amplifies the feeling.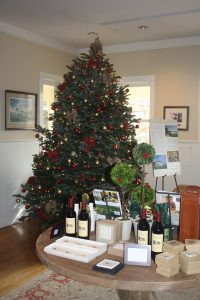 A particularly pleasant time to visit Duckhorn is around Christmas.  They decorate the winery beautifully, which adds to the "coming to the country for a visit with friends" atmosphere.  You almost expect to see a present under the tree with your name on it.
We at Power Tasting are not in the business of reviewing wines.  However, we can say that Duckhorn has made some very fine wines for a long time.  We do write about the pleasures of wine tasting from the perspective of the visitor and we can recommend a visit to Duckhorn quite without reservation (although reservations are required).  In our opinion, it is one of the best overall wine tasting experiences one can have in Napa Valley.