Sometimes you consume wine standing up.  At a bar in a tasting room.  At a barbecue.  At a party.  More often, for most people, you drink wine sitting down.  At the dinner table or in a restaurant.  Increasingly in wineries at tables in a tasting room.  On our porch on a late summer afternoon.
In almost all those cases, you drink wine with others you know or at least would like to talk with.  But in a certain type of wine tasting adventure, you find yourself sitting at a long table in a luxurious room, sipping wine with complete strangers.  A number of wineries offer seated tastings, by appointment only, often with accompanying foods, usually combined with a tour.  These are generally tastings at wineries that are (or aspire to be) among the elite, including wineries such as Jordan and Cain in California and Biondi-Santi in Italy.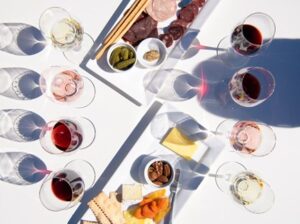 Photo courtesy of Visit Napa Valley.
There is an etiquette to these gatherings that is worth thinking about.
It's really not a cocktail party. Some people are chatty and others are more interested in enjoying their wine with the person they came with.  If you're one of the talkative ones, be respectful of the more silent types.  And if you do find other guests who'd like to converse with you, keep it down so as not to dominate the room.  That room may be like a fine dining room or a library, so speak as you would in one of those places.
You're not the wine expert. There's always a server/guide who leads the proceedings.  Let that person explain the wine and the history of the estate.  Even if you really are a wine expert, it's best not to take over.  You'll just come across as overbearing and intimidating.
If there's food, wait to be told when to eat it. This is a tasting, not a party.  The foods are often little bites of pâté, cheese or crackers.  They are chosen by the winery to complement and accompany specific foods.  So wait until your server suggests a pairing before you take a bite.  We have often found it interesting to leave a little bit of each food to try it with other wines after the pairing.  It might clash or it might bring out a quality in the wines that may surprise you.
As always, you have no obligation to buy any bottles. You are bound to be asked if you'd like to purchase some.  The winery knows that you're at your most receptive, having been treated like visiting royalty, with a little peer pressure added to the mix.  Remember that you have paid to be there.
Make sure to enjoy the ambience as well as the wine. Our experience has been that these group tastings are often held in beautiful rooms in buildings that either are or are meant to look like grand châteaux.  And the wines are often top of the line, often with a little extra from the library collection offered as well.  You may not come this way again, so soak it in while you're there. Cheers!