The Rodney Strong winery is located in the northeastern corner of The Russian River district in Sonoma County.  It is a little out of the way, since the Old Redwood Highway, where Rodney Strong sits, isn't chockablock full of wineries, as compared, say, with Dry Creek Road or Westside Road, both relatively nearby.  While there are other wineries we favor close to Rodney Strong, such as Limerick Lane or Foppiano, you pretty much have to consider it to be a destination, rather than a place you would be one stop among many.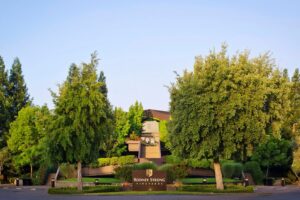 The Rodney Strong facility.  Photo courtesy of the winery.
And a destination it should be.  It is not a Sonoma Palace, but it is rather grand.  You enter up a long staircase with splendid foliage all around you.  Once inside, you find an elegant, if a bit austere tasting room with servers who know quite a lot about the Rodney Strong wines.  They had better, because there are so many of them.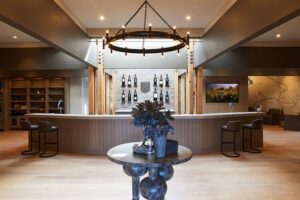 The tasting room at Rodney Strong.  Photo courtesy of the winery.
The reason we say that this winery is atypical for Russian River is that they don't just make Pinot Noir, Zinfandel and Chardonnay, although they do produce all those varietals.  But there are also Cabernet Franc, Cabernet Sauvignon, Malbec, Merlot, Sauvignon, red and white blends and rosé.  In this regard, Rodney Strong is more like a winery in Napa Valley than Russian River.
The sheer number of wines that are available for tasting is one of this winery's strengths.  Particularly for those who are not familiar with Sonoma County wines, this is a great place for an introduction, especially to Sonoma County as it used to be.  For Rodney Strong has been making wine here since 1959, with a family history stretching back to the beginning of the 20th century.  Mr. Strong himself was a Broadway dancer, who retired to buy vineyards and make wine.  It is always a pleasure to acquaint yourself with some of the pioneers of California winemaking as we know it today.  Since Mr. Strong was among the first to plant Pinot Noir in Russian River and Chardonnay in Chalk Hill, you really have a chance there to indulge in wine history.
Another way that Rodney Strong reflects the past is the price points for its wines.  In these days when the top bottles in many wineries go for well north of a hundred dollars, their most expensive wines under the Rodney Strong label can be purchased for two digits.  The cost of a wine is not necessarily indicative of its quality, but the overall pricing does set expectations.  Within that restriction, Rodney Strong delivers good, drinkable wine, some definitely worth sampling.
Unfortunately, the strength of such a wide range of varietals is also a weakness.  No one can make that many wines equally well.  But if your intent is to have wine for everyday dinners or barbecues, you can do very well at Rodney Strong.  And there are some wines you might taste that will do well with a weekend steak dinner as well.
The experience of a tasting at Rodney Strong – ambience, selection and wine – make a trip there quite satisfying.