There are no wineries on Long Island's North Fork that are anything like the palaces that have grown up in some parts of California's Wine Country.  The closest is Sparkling Pointe, in Southold.  In fairness, the architecture is not palatial.  From the outside, the building that houses the tasting room is reminiscent of a mansion in an upscale suburb.  The interior is grand without being overwhelming, with widely spaced tables, crystal chandeliers and lively contemporary artwork.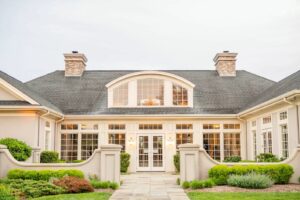 The exterior of Sparkling Pointe.  Photo courtesy of The Knot.
However, if you visit on a day with fair weather (which we have been lucky enough to find when we've been there) you'll walk through the tasting room, note the wide bar and allow yourself to be seated on the spacious patio overlooking the vineyards.  Ahh, this is wonderful…and it can only be improved by being served some sparkling wine.  Which, as the name indicates, is what they make at Sparkling Pointe.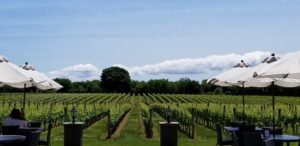 The view from the terrace in front of the vineyards.
Although Sparkling Pointe advertises openly that they use the méthode champenoise, it's not Champagne, which can only be made in the eponymous region of France.  There have been other North Fork wineries that have made wine with bubbles in it, but to our tastes there's nothing else there that approaches the quality of Sparkling Pointe.  We at Power Tasting do not review wines, but rather the wine tasting experience.  That said, we find that this winery's sparkling wines can stand up to those of their California cousins.
All tastings are seated, with service offered from a fairly wide cross-section of Sparkling Pointe's wines.  Flights are available as are individual glasses.  There are assemblages of the three Champagne grapes: Chardonnay, Pinot Noir and Pinot Meunier.  They also make blanc de blancs, blanc de noirs and a rosé.
Of course, each sparkling wine has its own characteristics and each taster will find some that they prefer to the others.  We were taken by the rosé, but there's no reason for us to believe that everyone will agree with us.  But, wow, it is fun to have six small flutes in front of yourself and get to make a choice.
Too many Long Island vineyards attract visitors with rock bands, pizza trucks and an overall carnival atmosphere.  Sparkling Pointe is all about the wines, so there's none of that.  However, like many Long Island wineries, Sparkling Pointe has a side business as a venue for weddings.  For the most part, this shouldn't affect wine tasters, unless they happen to be there near the end of the day when revelers are beginning to assemble.
To a degree, this problem is ameliorated by a "by reservation only" policy.  However, we have never had a reservation and have never seen a crowd at Sparkling Pointe.  That may be because of our policy of tasting at Long Island wineries on weekdays, just as we try to do in California.  If you know that you will be there on a Saturday afternoon in high summer, a reservation is a good idea.
As is the case with several of the newer North Fork wineries, Sparkling Pointe is showing how dedication and money can help the Long Island corner of Wine Country reach its potential.  It's well worth traveling from New York City, or elsewhere, to be a part of the journey.