Power Tasting isn't really about reporting the news, but we feel we owe it to our readers to give a description of what it's like to go wine tasting in early 2018, in what we like to call Napa/Noma.  The fires that ravaged many areas of Napa and Sonoma Counties are out now, and if you smell smoke, it's probably from people's fireplaces.  If you don't go searching out the most badly damaged areas such as Atlas Peak in Napa and Fountaingrove in Santa Rosa, you would not particularly know that the conflagrations occurred.
There are, of course, numerous signs that they did.  There are billboards announcing fire-related charities and lawyers to help with cases.  Most poignant for us was what we didn't see: as we drove up Route 101 in Santa Rosa, the Hilton we used to stay at and the nearby landmark, the Round Barn are no longer there.  Considering the loss of life and those made homeless, these are certainly lesser tragedies, but for frequent visitors such as ourselves, they are stark reminders of what happened there.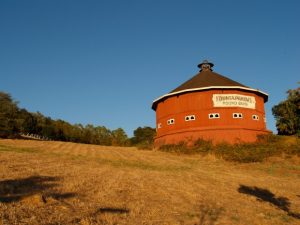 The Round Barn, before the fire.  Photo courtesy of the San Jose Mercury News.
At the same time, for those wondering whether to go wine tasting in the affected areas, the answer is definitely "yes".  For one thing, it's a chance to aid the local economy that is still feeling the shock.  For another, you get the chance to speak with the people who lived through the disaster and hear their personal stories.  Interestingly, the people we spoke with all knew someone who had experienced significant losses but did not themselves.  With a few lamentable exceptions, almost all the wineries were spared.  Even more remarkable, there was very little damage to the vineyards, although one well-known producer did tell us that they lost a few rows in one of theirs.
The rest told stories of extremely hard work, miraculous escapes and good news for the 2017 release.  Over and over we heard that a vineyard had just been picked the day before the flames came. One did admit that a portion of their crop at one sourced vineyard had been left on the vines because it was impossible for the trucks to get there.  For the most part, we heard that the grapes had been crushed and were in barrels before the fires occurred.
We are wine tasters, not growers or makers.  We are nonetheless concerned as to how the 2017 vintage will turn out in Northern California.  A new term has entered our vocabulary, "smoke taint", which is different than the pleasant smokiness in certain wines, particularly Northern Rhônes and Pinot Noirs.  It's a highly unpleasant taste, so we've read, akin to licking the bottom of a well-used ashtray.  It will be a few years before we learn whether Napa/Noma wines are affected.
If you go wine tasting there now, you'll be offered 2014's and 2015's, with perhaps a newly released 2016 available.  We can happily report that we tasted a 2017 Sauvignon Blanc at Rochioli in Russian River and the taste was grapefruit, not smoke, and it was delicious.
It will be hard to forget these terrible fires, for years to come.  But the fact is that if your goal is wine tasting, you can visit Napa/Noma without fear.  It looks and feels the same as ever, even if the usual pleasures are mixed with more than a bit of sadness.