If you're driving north from Los Angeles to go wine tasting in the Central Coast, you will probably pass through or near to the town of Solvang.  If you'd like to do something different and just a little strange, get off the freeway and visit.  In the early part of the 20th century, a group of Danish families emigrated to Santa Barbara County's Santa Ynez Valley and set up farms.  The Danes set up a town called Solvang that reminded them of Denmark, with architecture, churches and food stores evoking their homeland.
Of course, when you have a place that is a bit exotic and quite scenic, tourists will follow.  So while the farming tradition of the area around Solvang is very much alive, the center of town is an attraction, one verging on cutesy.   The buildings are half-timbered and the windmills actually turn.  There's a replica of Copenhagen's famous Little Mermaid, and a bust of Hans Christian Andersen and restaurants where you can get smørrebrød, the famous open-faced sandwiches that are a staple of Danish fare.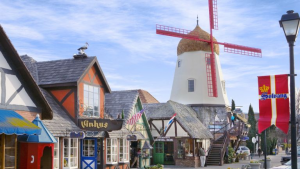 Photo courtesy of Solvangusa.
We have recently been in Denmark and can assure you that Solvang has no more to do with that country than Las Vegas does with France.  Still, this doesn't take away the pleasure of pretending you're in Denmark.  Solvang really is pretty and it really does have its roots in Danish-American history.
Solvang may be an out of the way little town for many California visitors, but not for those who are there for wine tasting.  It is located at the doorstep of the Santa Rita Hills, which is the source for some very fine Pinot Noir and Chardonnay.  Many of the best wineries in the Santa Rita Hills have tasting rooms in the city of Santa Barbara, enough so that travelling to the vineyards for tasting purposes is unnecessary.  But if you like looking at rows of vines while you taste, Solvang can be a good place from which to travel into the Santa Rita Hills.  Moreover, it's a short drive to Los Olivos and you're already in the Santa Ynez Valley, so you're right in the middle of Wine Country when you're in Solvang.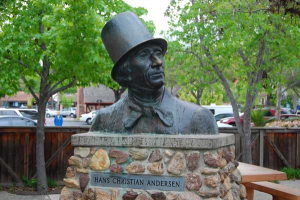 Photo courtesy of Hendrik Breuer.
You don't even have to leave Solvang to go wine tasting if you don't want to.  There are at least a dozen tasting rooms in the town, of varying quality.  (Au Bon Climat used to have a tasting room there but has since moved into Santa Barbara.) We would advise that the reason to taste wine in Solvang is more about the atmosphere than the wine itself.
Wine Country is about wine, to be sure, but there are usually other things of interest, worth a visit.  You wouldn't go wine tasting in Champagne without going to  Paris or in Tuscany without seeing Florence or Siena.  So it's pleasant to take some time to visit a town like Solvang if you're wine-tasting in the southern end of California's Central Coast.  Okay, it's not Paris or Florence, but Solvang and the Santa Ynez Valley can offer a pleasant way to spend a day of vacation or a weekend besides wine tasting.