Here's a really bad idea: drive all over California visiting one wine tasting region after the other.   It could be tiring and after a while, you can't remember what you tasted and where.  We did it and the reason we did it wasn't wine tasting; Steve had a client that wanted him to visit all of its offices around the state and we just took advantage of being there to taste each region's wines.  We're not going to present a travelogue here, but we will offer tips on how to take the most advantage of your travels in California if this ever happens to you.
Plan your route before you go.  California is famous for its road system, so take advantage of it.  Figure out how you want to go, with help from tools like Google Maps.  (What did we do before we had it, anyway?)  But beware of Google Maps navigation when you're driving.  California is also famous for its traffic jams, so it may take you longer than you thought (always add an hour, says Lucie) and you may be taken on an obscure route just to avoid a five-minute tie-up.  You will probably be on some unfamiliar highways to begin with; taking a detour into the back roads of farming regions is a great way to get really, really lost.
Find out about the wineries in the areas you'll be going to.  There are world famous wine growing regions in California.  And then there are some that aren't that good and may not have the terroir to achieve much in the future, either.  On the other hand, there may be some little gems hidden away in wine growing regions you've never heard of.  But how to find them?  Just looking up the region on the Web will usually get you a list of wineries that are members of the local vinicultural association, but that will tell you that they're all wonderful, even if they aren't.  Look up reviews; the San Jose Mercury, the Los Angeles Times and the San Francisco Chronicle usually offer pretty good guidance.  The reviews on www.wine-searcher.com are also good sources of information, although you do need to go through wineries one at a time.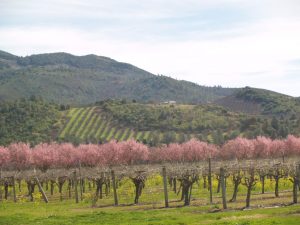 Lake County in springtime.  Photo courtesy of Wikipedia.
Keep your expectations in check.  Overall, most of the wineries in most of the unknown regions you might find along your way might not make very good wine.  Of course, tastes vary, and you could well find something that appeals to you at an obscure winery.  Just "appeals to you" and not "bowls you over" may be the best you're going to get, so don't be disappointed.  Let's face it, Santa Clara and Temecula aren't Napa and Sonoma.  It might be more of a downer if a certain wine growing region were a destination, but if they're something to do because you're in the area, enjoy what you can and chalk the rest up to experience. It always feel good anyway to be in a Wine Country.
Find out where to eat.  A general rule is that where you can taste wine, you can find great restaurants.  But general rules, like all others, are made to be broken. Do not expect to see restaurants amongst the wineries; there are usually none at all.   There are some regions where it's tough to find a restaurant or a deli to get a decent sandwich, much less a fine meal.  So when you get off the freeway, either use the app "PCS Places" and search for restaurants around, or ask at the first gas station or drug store you see where you can get something to eat, something you must do if you're going to take on a bit of alcohol.  (While you're there, buy a bag of pretzels or chips, it might be a life saver!) You'll be glad you asked and saved yourself miles of driving. Here's a tip: there are a lot of people of Mexican descent in California and a lot of Mexican restaurants all over the state.  Even in the middle of nowhere, you often can find some good Mexican food, like we did in Central Valley.  We bought lunch from a Mexican food truck and it was delicious.