A visit to the Signorello Estate (http://signorelloestate.com/) winery can take on a few different personalities. Let's focus on the easy one first, tasting their wines.  We rather like them, especially their Cabernet Sauvignon and their Syrah.  According to Signorello's web site, their wines have been receiving considerable attention from the point-giving magazines. They are certainly a mouthful, with strong varietal flavors. Their top wines are now allocated, so if you're not a member of Signorello's wine club, the only way you'll taste their top-rated wines is to visit the winery.
The tasting room is spacious and kept a little on the dark side, for a chateau-like atmosphere.  In fact, as you drive up to the winery you may be reminded a bit of a slightly modern French chateau.  And indeed although the owners bear an Italian surname, the wines are very much in a Napafied French style.  There is a grandeur to the Signorello winery, combining the architecture and the landscape.  You know you're in Napa Valley.  In fact, you'll have just the sort of experience that many wine tasters came to Napa Valley for.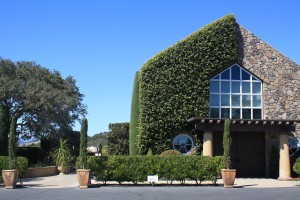 If you're lucky, your server will be Nathalie Birebent, whose lilting French accent makes the wines taste a little less Californian and a little more French.  (More about Mme. Birebent later.)
You may enjoy your tasting at the bar of the tasting room or outside on a sunlit terrace, and it is there on the terrace that the split personality of a Signorello visit kicks in.  There is one of those infinity pools that seems to disappear over the edge, leading to a lovely view of Signorello's vineyards and Napa Valley generally.  It is hard to think of anything more attractive on a lazy summer afternoon.
But summer afternoons at Signorello are anything but lazy.  Signorello has a working restaurant kitchen just opposite the bar and they do use it.  The winery offers several different wine and food pairing tours and on the weekends there is often quite a party going on.  So the calm of the interior belies the jangle of the terrace.  If the latter is the scene you like, there are fewer places better than Signorello to enjoy it.  If not, we recommend you visit Signorello on a weekday.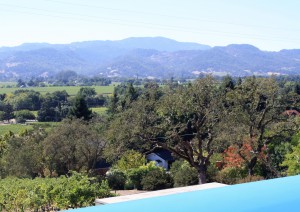 We have a special affinity for Signorello, beginning with the aforementioned Nathalie Birebent.  Not only is she the spirit of the tasting room, but she's also the wife of Pierre Birebent, the winemaker.  So Mme. Birebent brings a special level of knowledge to her service which magnifies the wine tasting experience.  Lucie is a native francophone (and Steve can get along in French) so our conversations over a few pours is always quite lively when we visit Signorello.  On one occasion, Pierre gave us a private tour which was a pretty amazing way to visit a winery.
Overall, a visit to Signorello combines many of the elements that make wine tasting exciting: fine wine, knowledgeable servers, resonant architecture and (if you like) a party.  There's the little thrill that comes from discovering wines that you can't find on the shelves of your local wine shop.  We always leave Signorello with a smile on our faces.