If you love going wine tasting, as we quite obviously do, and if you enjoy telling friends about it, you will inevitably be asked whether you have seen the movie Sideways.  Well, yes we have and we liked it quite a bit.  But since the movie may be all your friends know about a wine tasting trip, you owe it to them to point out what is and is not realistic about it.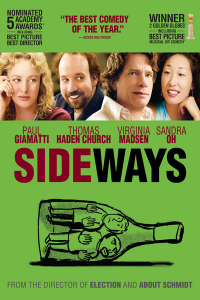 First, the film gives you the idea that people who visit Wine Country for tasting are jerks and geeks.  (We deny being either.)  In our experience, the jerks are most often people who want to drink rather than taste and have often been previously overserved.  Most wineries are pretty good at dealing with this sort, for their own protection and to preserve the positive experience of other visitors.  As for geeks, these are often normal people who are enthusiastic about one topic – wine tasting, in this instance – and are eager to share it.  As long as they aren't intimidating wine snobs, they are usually nice to deal with.
Often, people will tell you that they really liked what they saw of Napa Valley in the movie.  However, the wineries and other locations shown in Sideways are from the Central Coast, in and around the town of Los Olivos.  This is a wonderful sector of Wine Country, with Pinot Noir and Chardonnay grown to the west and Syrah to the east.  There are some excellent wineries in the movie such as Fess Parker, Foxen and Firestone, well worth visiting.  But they are hardly representative of California wine tasting as a whole.  In particular, the town of Los Olivos is unique.  It's a quiet little California village that just happens to have an exceptionally high concentration of tasting rooms along its Grand Avenue.  This is an opportunity for some interesting wine tasting, but this kind of atmosphere usually is found in urban settings, not a small town like Los Olivos.
What we find most evocative in the movie is the passion for wine experienced by its protagonists (well, some of them).  The scene in which Paul Giamatti and Virginia Madsen explain what wine means to them is eloquent and affecting.  Of course, you would be eloquent and affecting too if you had script writers.  All the same, there is a spirit of seeing beautiful scenery, trying fine and not so fine wines and eating Wine Country meals that comes through in Sideways.  That spirit is instantly recognizable to those of us who go wine tasting often.
There is much in the movie that evokes the real experience of wine tasting, despite the characters' love lives and other shenanigans.  Probably the worst thing in the movie is what it did to Merlot production in California.  The fellow who keeps crying "No more Merlot" is a Pinot Noir lover, fair enough, but he doesn't really know what merlot tastes like, as shown by the St. Emilion he drinks at McDonalds.  That's right, it's made primarily from Merlot grapes.
So when Sideways comes up in conversation – and even thirteen years on from its debut, it will – tell your friends that it's a fun movie and that some of it actually reflects your own experiences in Wine Country.  Then suggest that they take a wine tasting trip and experience the real thing for themselves.
Cheers !