Less than four years ago, Power Tasting issued a status report on wine tasting in Napa Valley.  Then the pandemic occurred and turned everything topsy-turvy.  Some things remain the same; others the same, but more so; and some things are transformed.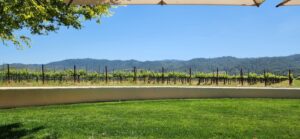 The view of Robert Mondavi's vines and the Mayacamas Mountains, as seen from under umbrellas at a tasting.
What has not changed and may never change is the beauty of Napa Valley.  Especially in 2023, following the incredibly rainy winter that occurred there, the hillsides are greener and the vineyards seem to sparkle just a bit more than we remember.  Just driving around fills our hearts with joy.
Some old favorite restaurants have closed and others have taken their places.  Such is the way of the world, though the pandemic might have sped things up a bit.  Fear not, there are plenty of places to eat.  It seems to us that Napa Town has more, and more varied, eateries.  There are surely more in-town tasting rooms there, as well.
The fees for tastings have increased greatly, while those for reserve tastings have particularly skyrocketed.  In 2019, we were appalled at the prices.  Now we are simply flabbergasted.  On average the cost seems to have doubled, with some reserve tastings costing $125 per person or more.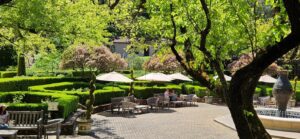 The view during a veranda tasting at Beringer.
On the other hand, it seems that visitors get more for their money.  With some very limited exceptions, standing at a bar is a thing of the past.  (It used to be nice to be able to stop at a winery, walk to the bar and taste their "basic" wines, while paying a courtesy fee for that.  For those who still enjoy that mode of tasting, bellying up to the bar is still possible at some in-town tasting rooms.)  All other tastings are seated, with a dedicated server pouring wine for you and explaining what you need to know about what you're tasting.  The pours are heavier and time goes more slowly.  Nearly all tastings last for an hour; some go on for a half hour longer.  It depends on the server and even more so on the vibe that the winery is trying to project.
For example, Domaine Carneros would like you to believe that you are in a bistro in a French village (with a château, of course).  Beringer would like to evoke the refined elegance of another era.  At Robert Mondavi (at least for the club member tasting that we indulged in) the servers sit down and chat with you, as though you were sitting with friends (that you did not know you had) in an unbelievably beautiful back yard.
We found that even though we were able to partake in fewer tastings, not more than three in a day, we were drinking more.  We used to take a sip or two and pour out the rest.  Now, while we waited for our server to bring the next wine, we were more likely to see the bottom of the prior glass.
The prices for the best wines at each winery have also escalated.  The very top wineries, the ones that habitually are found at the top of the reviews, were and are expensive, but their prices haven't changed much.  The cost of a bottle of the top wine at less well-known wineries has reached the same stratospheric levels as their better known rivals.  We'll leave it to others to judge the comparative quality of the wines, but it's fair to say that we were shocked by some of the price tags.
Napa Valley will be America's premier winemaking region, at least for Cabernet Sauvignon, for quite some while.  But we're not at all sure that it's still the best wine tasting destination – at the price – for the average wine enthusiast.