Wine tasting in Sicily is unlike other places we have been, even in Italy.  For one thing, there is no essential place to go to, no Medoc or Napa or Tuscany.  The Sicilians grow grapes and make wine almost everywhere on the island.  For another, unless you are a real specialist in Italian wines, you probably haven't heard of any of the better wines made in Sicily.  Finally, most of the Sicilian wines available in the US, until recently, were either overly acidic or overly sweet, so there's not a lot of incentive to find the wineries and taste what they have to offer.
Donnafugata, in the town of Marsala on the west coast of Sicily, can really change your thinking about Sicilian wines.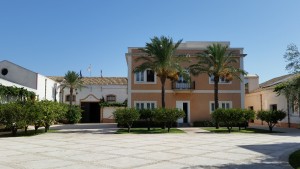 The Donnafugata winery facilities
The name of the winery is taken from the great Sicilian novel, Il Gattepardo by Giuseppe di Lampedusa.  It means "the fleeing woman" in Italian and in that language the word does roll off the tongue.  However, to American ears, particularly ears that are near Brooklyn, it sounds so much like the dismissive "fuggedaboutit" that is attributed to that borough.  Try to overcome this prejudice when you visit Marsala.
Unfortunately, the town is not close to other tourist destinations, such as Palermo, Agrigento, Syracuse or Taormina.  That means a visit to Marsala entails a long drive, fortunately over well-constructed and well-marked highways.  The town itself isn't much to see and the wineries for the most part look like factories from the outside.  Ah, but it's what's inside that counts.
At Donnafugata, there is no bar as such for you to just step up to and taste.  You take a brief tour through what is, indeed, a factory – as all wineries are to a great extent.  You learn about the Rallo family that owns and runs Donnafugata and get a pretty good overview of Sicilian grapes and winemaking techniques.  We found the selection of wines to be very interesting, with Nero d'Avola as the primary red grape but with several quality wines that add Cabernet Sauvignon and Merlot.  Whites are from a broad selection of grapes, mostly unknown outside of Sicily, such as Catarratto, Grillo, Zibbibo and Ansonica.  They do have several Chardonnays just like back home.
Your tour guide offers you a tasting in a small room, little more than an office.  Our guide was a fellow named Marco, who was very enthusiastic and eager to please.  He would have opened every wine they make if we had allowed him to do so.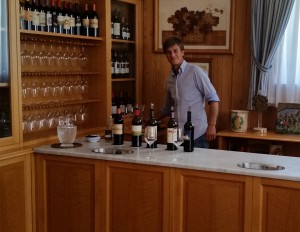 Marco getting ready to serve
One of our great discoveries was the dessert wine called Passito.  It is made from Zibbibo grapes on the island of Pantelleria, closer to Tunisia than to Italy.  It is made by placing a large portion of the harvest on cloths in the fields, in order to turn the grapes into raisins.  The remaining grapes are vinified and then passed over (hence, Passito) the raisins and allowed to macerate.  The result can be exceptionally sweet but if managed well, made into a complex, aromatic dessert wine that is, as the Italians say, uno vino de meditazione, a meditation wine.  Donnafugata's Passito is called Ben Ryé, or "son of the wind" in Arabic.
If you intend to visit Donnafugata, be certain to make a reservation and give yourself plenty of time to get there.  Like all of Italy, they close for a leisurely lunch, which means that if you are driving from afar, you don't have a lot of time to visit multiple wineries in the area and still get back to your hotel before dark.  (The highways are fine but the streets in the towns and cities are a bit of a challenge.)