This occurred at a recent college reunion in New York, but it could have happened at any large gathering in any location.  There was an event advertised as a wine tasting. About 500 people showed up at an outdoor plaza, under a tent on a hot summer day.  The organizers had chosen fifteen or so wines, half red and half white (with one rosé thrown in for balance) from California, France, Italy, Australia and Spain.  The wines were served at various stations, reds and whites intermixed, laid out in flimsy plastic cups for the taking.  The white wines were on ice but someone had heard that red wines were to be served at room temperature.  Well, the "room" in this case was a tent under the sun, so the reds were roughly 90o.
This may have been an opportunity to taste a lot of wine, but it wasn't a wine tasting.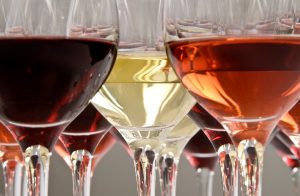 Photo courtesy of C. E. Lovejoy's Market
A wine tasting has form.  That is not to say that wine tasting must be formal.  In fact, some of the best are very informal, spent with friends over a dinner or a barbecue.  But there must be some reason for drinking certain wines that gives the event some continuity and a reason for comparing the various ones being served.  They may all be from a single producer, as happens in tasting rooms on a wine tasting trip.  Or the same grapes from multiple producers in the same region.  Or from different regions around the world.  Or just different approaches to accompanying the meal being served.  But a wine tasting is not: "Here are five different wines.  Try them and say which one you like."
A wine tasting has structure.  Generally, that structure is from lightest to heaviest, topped off with a dessert wine.  But it could also be from cheapest to most expensive (best done in a blind tasting).  It might be fun to match up hillside wines against those from the valley-floor, of the same grapes.  There has to be some reason to say, "Drink this one first, then this one, then this…"
A wine tasting has content.  It might be fun to line up Petrus, Screaming Eagle and Grange next to each other.  We've never been invited to a wine tasting like that and truly never expect to be.  But in every tasting there ought to be some wines that are worth the attention for savoring and contemplation.  What's the point of a selection of plonk from around the world?  That's not to say that an unknown wine can't shine among the big names; we've often been delightfully surprised by the Davids taking down the Goliaths.  Still, the wines involved in a tasting should be carefully selected with some thoughtfulness about their quality.
A wine tasting has class.  Oh, make that glass.  While it is true that we'll be happy to take some Chateau Margaux in a Dixie Cup, for the most part we want to enjoy wine in a well-made glass, not a plastic beaker better used for biological specimens.  That shows respect both for the wines and for those invited to taste them.
At the event in New York, once it was clear that a real wine tasting wasn't on offer that day, we poured three samples of a cold white wine into a single cup and cooled off under that hot sun.