For many bygone years, a wine tasting trip in California meant travelling to Napa Valley.  Oh, we knew there were vineyards on the other side of the Mayacamas range in Sonoma County.  And occasionally we'd drive over the Oakville Grade and emerge on Route 12 in the Sonoma Valley region.  We'd visit a few nearby wineries and then scamper back to the familiarity of Napa Valley.  No disrespect to Chateau St. Jean, B.R. Cohn or Arrowood (our most frequent Route 12 visits) but we were missing an awful lot of what Sonoma County has to offer the wine enthusiast.
In the late '90's we decided to dedicate an entire trip to Sonoma County.  It was very different then, much more rustic with simple wineries and not many places to eat.  Even though the main road is a highway (Route 101), Sonoma County's Wine Country is vast.  Not knowing where we were going nor what we liked, we spent a lot of time driving from one winery we had heard something about to another and wasting a lot of time getting from place to place.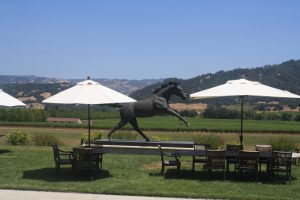 The view in front of the Stonestreet winery in Alexander Valley.
We've learned that the smartest plan is to visit one region per day.  Fortunately, there is a fairly consistent mapping of grape varietals with specific regions, so we have a good idea of the type of wine we'd be trying each day.  For example, Sonoma Valley was and is all about Cabernet Sauvignon and Merlot and so are Chalk Hill and Alexander Valley.  If you're a Pinot Noir fan, you should head straight to Russian River and Green Valley.  And while you'll find Zinfandel everywhere, they specialize in it in Dry Creek and Rockpile.  Chardonnay and Sauvignon Blanc are everywhere.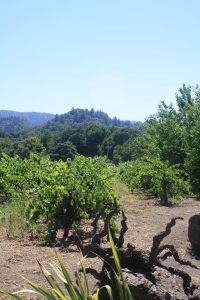 Old Zinfandel vines in Dry Creek Valley.
There are three towns where you'll find most of the restaurants and hotels: Sonoma, Santa Rosa and Healdsburg.  If you did nothing but visit the main squares in each, and sip in the tasting rooms there, you'd have a pretty nice visit to Sonoma County.  All the same, we recommend that you get out into the countryside.
There are still plenty of wineries that are reminders of the way the county used to be.  They're small, out of the way and their tasting rooms are nothing fancy.  Some have wines that are probably not worth being on the top of your list, but we have chanced upon more than a few that have been favorites of ours for many years.  It's a good idea occasionally to let serendipity be your guide and try some wines you've never heard of.
At the other extreme, there are quite a few wineries in Sonoma County that have deservedly great reputations and should be considered for your visit.  Among these are Jordan, Verité, Rochioli, Martinelli, Ridge and Chalk Hill (including their Chardonnay).  Even before the pandemic, may of these were by appointment only, so check before you go.
Sonoma County may have once been Napa Valley's little brother (at least in the opinion of the Napans).  In no way is that true today.  You can taste, dine, sleep and tour just as well in both these sectors of Wine Country.  There are many similarities, which is why we term them both together as Napa/Noma.  But Sonoma has a distinct personality in its wine, geography and attitude.  It's a destination in itself.