In an overly broad, but nonetheless true, pronouncement we can say that all wine comes from one of two places: hillsides and valleys.  Some, but not many, of these hillsides are actually mountains, but most are just large hills that the locals call Mt. This and Mt. That.  For example, there's the famous Burgundies from Montrachet, which is Mount Rachet to anglophones and, quite frankly, is nothing more than a bump on the plain.
But sometimes, you may want to try some wines from mountain wineries.  If you're going wine tasting in Napa/Noma, Valpolicella or the Languedoc or the Northern Rhone you'll have the opportunity to enjoy wines from both upper and lower altitudes.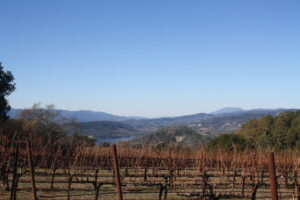 The Chappellet vineyards in winter.
Visiting wineries in the valleys is a relatively simple affair.  Get on the region's main drag and drive along; you'll find vineyards and wineries on either side of the road.  Wine tasting in mountainous regions is a bit trickier.  There is no main drag.  Wineries are harder to find and are usually further apart.  And the driving is considerably more difficult.
So if you plan to taste in the mountains, it's a good idea to consider a few tips:
Know where you're going. Of course, this is good advice throughout life, but it has double resonance in mountain wine tasting.  For one thing, we have found that GPS systems get a little lost up high where the "streets" are often little more than barely paved roads.  Also, there are often few signs to let you know that you're actually headed in the right direction.
Plan your time. It takes time to drive up a mountain.  And once you get where you're going, it takes time to get back.  Then, once you get to a winery up in the hills, you may find it's the only one in the area, so your trip is for just one tasting.  Now, that's not all bad.  We'll take the drive anytime if the destination is Chappellet or Quintarelli, even if it takes all or most of the afternoon.   We're not sure, though that we'd make such a drive for a winery we've never heard of.
Recognize the exceptions to the previous tip. There are mountains with a selection of wineries.  Napa Valley's Spring Mountain, for example, offers a pretty broad selection of wineries at which you may taste.  Some of them, like Cain, Pride and Smith-Madrone are well worth a visit.  The same may be said of France's Côte Rôtie, where there is, in fact, a small but drivable main road, the D386, along which you'll find many excellent wineries and even some places to eat.
Speaking of which, bring your lunch. Noting the exception in the previous tip, there are unlikely to be many restaurants, cafés or even snack bars up in the mountains.  Unlike in the valleys, there is no pass-through traffic and not that many people live there.  So it's not an economic proposition to open an eatery there.  You may have to drive a while for something to eat.  We were in the hills above Valpolicella and asked a winemaker where we might have lunch.  He pointed across the valley to a spot on the horizon atop the next ridge.  Down one mountain, ten miles in the valley and up another on we had a great meal.