The whole idea of a vacation is to get away from your everyday life for a while.  If you're from a city or suburbs, then Wine Country is a pretty big change, and if you live amidst the vineyards, it's not really a vacation to go wine tasting.  Still, there are times, even when you want to get away from it all, that a certain amount of reality intrudes.  It makes sense to gain a little familiarity with the shops in the region you're visiting for just those occasions.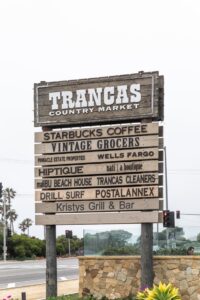 Photo courtesy of Burdge and Associates.
If you're tasting in Napa Valley or Sonoma County, this isn't a big deal.  There are towns and main shopping routes where you can find everything you need; it's not the Sahara Desert after all.  Of course there are shops in the town of Napa, Yountville and Healdsburg but many of them, if not most, are for tourist items, not necessities.  But Trancas Street in Napa and Route 101 in Santa Rosa are long stretches of shopping malls and big box stores.
So if you need Band-Aids, orange juice or some batteries, there are plenty of shops where you can make these purchases.  (A hint for wine tasters on a romantic getaway: There's plenty of California sparkling wine to be found everywhere, but if you want some real Champagne, you can find it at one of those huge drug stores or in many grocery stores.  It's not so easy in nearby wine shops, which tend to feature the local products.)
Photo courtesy of Wikimedia Commons.
In Europe, it's not quite as easy to find the basic necessities.  However, almost every village except the tiniest has a pharmacy, usually indicated by a green neon sign in the shape of a cross.  In the larger towns (and cities, of course) one of these pharmacies will be open all night.  For many of the other items you might need, look for a tabac in France or a tabacchi in Italy.  As might be expected, these little shops sell tobacco products.  But it's also where you'll find post cards, stamps, bus tickets, maps, an espresso to start the day and a grappa to end it.
It is also wise to prepare for emergencies.  You're not going to go travelling in Wine Country armed with information about nearby hospitals or a doctor or dentist who will see you posthaste.  So make sure you know someone who does know or at least the emergency phone number.  Of course, it's 9-1-1 in the United States but it's 1-1-2 in France, 1-1-8 in Italy, and 0-0-0 in Australia.
It's a good idea to have the number of your host (the hotel front desk or the friends you're staying with) for some oddball needs.  For example, we once had a flat tire while we were tasting in Oakville.  Nobody at the winery we were at knew where we could get a new tire quickly, but the hotel concierge was able to help.
It's always helpful to know where to get a wine stain out of a sports jacket or to find a deli for a picnic or the late night munchies.  Or a pizzeria, some therapeutic Häagen-Dazs, a bathing suit or an essential whatchamacallit.  So be prepared.