One of the famous sayings that Yogi Berra was supposed to have uttered was "Nobody goes there anymore – it's too crowded".  You may want to remember that if you should find yourself, say, on Route 29 in Napa Valley on a sunny July 4 weekend.  Everybody knows (whoever everybody is) that it will be mobbed with wine lovers, tourists, partiers, kids, bachelorettes and assorted hangers-on.  The roads are clogged; you can't get near a server in wineries and as for getting an answer to a question, well, as we say in Brooklyn, fuhgeddaboudit.
So why go?  That may be your only day in the area or you promised some people you'd take them when they were in town.  Here are a few tips for making the best of it.
Avoid the big names. Sure, it's fun to visit the wineries you're familiar with but those are the ones that will likely attract the biggest crowds.  Even in regular times, we've felt overwhelmed at places like Domaine Chandon and Silver Oak.  So consider some of the lesser known, more out of the way wineries.  For instance, if you really want to try some sparkling, you might want to go to Iron Horse in Sebastopol.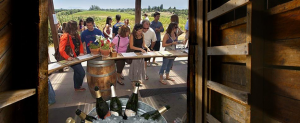 The Iron Horse tasting "room".  Wine tasting as in the old days.  Photo courtesy of shop.ironhorsevineyards.com
Take your glasses outside. An advantage of Iron Horse is that their tasting "room" is and was outdoors, even before Covid forced that on every winery.  Many wineries have terraces or picnic areas where you can sip under the blue skies.  We enjoy the combination of wine and good weather under any circumstances.  We remember well a visit to Etude one Martin Luther King Birthday weekend when we sat outside in a pair of Adirondack chairs, while a nice server came by periodically and made sure we hadn't run out of Pinot Noir.
Use the auxiliary tasting rooms. Some top wineries, such as Chateau Montelena or Beaulieu Vineyard, maintain secondary tasting rooms specifically to deal with crowded days.  If you make it clear that you'd prefer some relative peace and quiet instead of being in the middle of the action, they will be glad to accommodate you.
Make appointments. This is a good idea on weekends, much less holidays.  During the pandemic, most wineries are by appointment only, anyway.  But when it's over, the masses will return, perhaps in greater numbers after being away for so long.  With an appointment, you usually will get a seated tasting, which by itself limits the size of the crowds.
Don't try to visit too many wineries. The less time you spend on the road, the better off you are.  So limit you tastings to a few places, preferably fairly close to one another.  Think about the places you'd like to stay for a while, for both wine tasting and other reasons.  Some wineries have beautiful gardens.  Others have outstanding art collections.  And some are just lovely places to be.  Take advantage of them.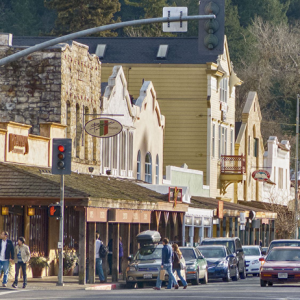 "Downtown" Calistoga.  Photo courtesy of TripSavvy.
Consider in-town tastings. As a general rule, we prefer to be in towns, such as Calistoga or Healdsburg, on weekends rather than out in the vineyards.  There are an increasing number of top wineries opening tasting rooms on the streets.  Even if they're crowded, and they are sometimes, you can stroll around a bit until you can find a spot at a bar.
These are all Napa/Noma tips, but the same ideas apply in European wineries, if you happen to be there for their holidays.