Sattui Winery (www.vsattui.com) is an American success story. Vittorio Sattui was born in a small town near Genoa and emigrated to San Francisco. He opened a winery there in 1885 and prospered, along with family members who followed him, until Prohibition closed the winery down.  Then in 1976, Vittorio's great-grandson Dario revived the family business in St. Helena.  (As it happens, our first trip to Napa Valley was in 1977, so we thought that V. Sattui had always been there.)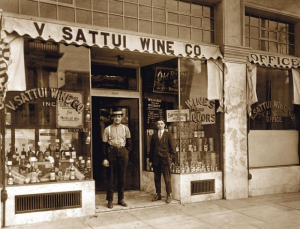 The original winery in San Francisco.  That's Vittorio's son Mario and brother Romeo out front.  Photo courtesy of the winery.
Today, V. Sattui has become an institution.  If you visit Napa Valley for only a few times, you are sure to wind up at their doorstep.  Everybody does.  There are several reasons why this is so.
The first is location. It's right on Route 29, so anyone going to taste in the northern end of the valley has to pass by.  Heitz and Louis M. Martini are just up the road, so we guess Dario figured back then this was a good spot for a winery, and maybe he knew that Flora Springs would open across the street in a few years.  But he couldn't have known that Pahlmeyer, Belle Glos and Hall would
someday be neighbors as well.  You could do a day's wine tasting in walking distance of V. Sattui.
Then of course there's the wine.  V. Sattui has always had an enormous selection of them, many of which were quite affordable.  This is still the case, but they also have pricier wines sourced from some of the most reputed vineyards in California, including Morisoli, Ramazotti and Quaglia.  Their wines include four white varietals, ten red varietals (plus blends), eight dessert wines, five rosés and four sparkling wines.
So how come you've never seen any of these in your local wine store?  It's because they don't distribute their wines outside the winery.  These days, of course, everything is for sale on the internet as well.  But for decades, V. Sattui has relied on visitors to buy up their stock.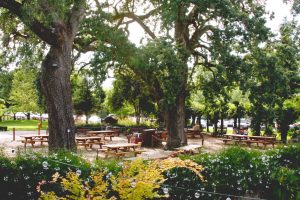 The picnic grounds at V. Sattui.  Photo courtesy of the winery.
And the visitors have come, year after year, many attracted by the expansive picnic grounds on the property.  Napa County has limited the number of wineries that can have picnic tables, with those that have long had them allowed to continue doing so.  It is a common sight in good weather to see families gathered at the tables eating feasts, like you see in Italian movies.  Somewhere, old Vittorio must be smiling.
The people are eating and drinking food and wine purchased on the premises.  In addition to selling wines, V. Sattui has a very fine deli, or salumeria as Vittorio would have said.  There are cold cuts, cheeses, sandwiches, salads, hot dishes and desserts.  And of course, it all goes with V. Sattui wines.  They have a rule that food and wine must be bought there, and that's only fair.
Many visitors are new to wine tasting in Napa Valley, so they've never heard of, much less tasted, V. Sattui's wines.  So if you sit the shady picnic area and listen carefully, you'll hear people saying, "Hey, this is pretty good".  And it is.