This is a continuation of Power Tasting's irregular series on great wine bars of the world. Previous issues have taken readers to locations in Paris, London, Copenhagen and Lisbon…and now, Rome.
If you google "Best wine bars in Rome" you'll get various lists made by people with different tastes and experiences.  In almost all cases, you'll find Angolo DiVino there, often at the top.  It's a Roman attraction, albeit a bit difficult to find.  Nonetheless, Italians do find their way there and these days you'll hear other languages spoken, not least American-accented English.
It's located on a very narrow street called the Via dei Balestrari.  Cab drivers have never heard of the street; GPS gets lost; and in typical Roman fashion, everyone you meet on the street will give you directions, whether they know where it is or not.  The key is that it is only a block off of one of the corners of the Campo di Fiori, which every cabbie can definitely find.  Ah, but which corner?  There's a restaurant at one end, called Carbonara.  That's the wrong end.  But if you turn your back to the restaurant, go to the corner of the Campo to your right and walk one block, you'll be there.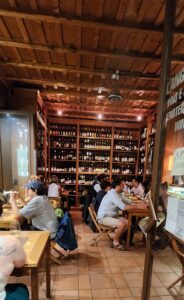 And once you get a table, you'll be glad you did.  L'Angolo DiVino is quite small and you may have to wait a while for a table.  Of course, you can order a glass and stand outside sipping while you wait.  Once seated, you'll be handed the wine list of the size of a short novel.  There must be a hundred wines to choose among.  However, most of them are sold by the bottle and it seems that most patrons, especially groups larger than two people, order bottles.  Buying by the bottle gives you a greater selection to choose from but less chance to experiment with the little-known wines on the by-the-glass list.
There is also food to be had from a rather short menu of bruschettas, salads, cold cuts, olives and cheeses.  It's possible to make a meal from these dishes, but it seems that most patrons order their antipasto at l'Angolo DiVino before moving on.  We must say that the prosciuttos, salamis and cheeses complement the wines quite well.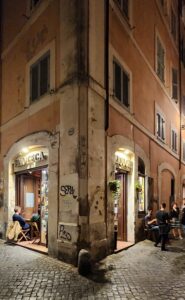 You can get an education in Italian wine at l'Angolo DiVino, if you have the time and stamina to work your way through their list.  But you can also get an education in the easygoing way of Roman life.  This enoteca is no different from the hundreds of others scattered around Rome, with a better quality of wine and a less rambunctious clientele.  Voices are not raised at l'Angolo DiVino.  Families get together there.  Couples sit, sip and talk.  And the servers really do know what they are talking about when it comes to the wines on offer.
As said elsewhere in this issue, enotecas are beloved gathering spots in Rome.  Many are neighborhood hangouts.  L'Angolo DiVino is a destination.
And oh, about the name.  Angolo means corner, and indeed this wine bar occupies a corner.  The rest is a play on words, so it's either the Corner of Wine or the Divine Corner.