When we are on a wine tasting trip, we are pretty serious about it.  We chose in advance the wineries we want to visit, make appointments, pay attention to what we're tasting and take notes.  But then there are times when we are travelling just for the sake of travel.  Sometimes we find ourselves in previously unknown parts, foreign or domestic, where we know that wine is produced.  We want to try the local wines but we don't have time to go to vineyards, talk with the servers and generally educate ourselves.
So we do the best we can with the time we have.  Here are some tips on getting a rapid introduction to what the locals are drinking.  In our most recent travels we were in Italy, so we'll use Italian examples.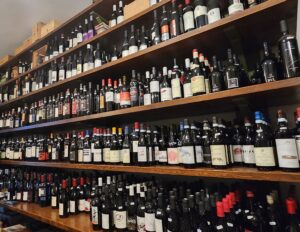 Take a chance. We have often been delightedly surprised in Italy to find very reasonably priced wine lists, much more so than back home, and even less expensive bottles in stores.  So if most of the wines available in restaurants are priced in the range of 20 euros or so, why not let Lady Luck be our sommelier?  A Falanghina may sound like the name of a luxury sports car, but it's actually a white grape mostly found in the Campania.  We first found it by this go-ahead-and-try-it method; we loved it and have been looking for it ever since.
Ask the waiter. If we are sitting down to a good meal, we'll naturally ask for the wine list.  Sometimes we are told that the "list" is either red or white, so we know we are not about to learn anything.  In other cases, though, we are presented with a list of labels that provide a lot of data but no information.  We're not familiar with the region, the grapes or the wineries.  So we ask the waiter, "What Pugliese white goes with the meal we are ordering"?  An honest waiter will think about it and recommend something that he, at least, thinks is representative of what the region has to offer.  (A dishonest waiter will just point you to the most expensive wine.  Ignore him.)
Find a wine shop. Native English speakers have a great advantage in traveling around the world.  Especially where tourists are plentiful many people, including shopkeepers, speak English.  So when we enter a wine shop, we can generally communicate fairly well. We ask for whatever is made locally and often come up with a wine that is either quite good for the price or simply quite good, period.  Of course, we always travel with a cork screw for just such occasions.  We take the bottle to our hotel room and have our own tasting.